They are ordinary Jamaicans who are doing extraordinary things without expecting a reward – they may be members and leaders of community-based organisations like Ricardo Burke, Managing Director of the Yutes4Change Foundation who spearheads a breakfast programme for school children in Gregory Park, Portmore.


And Roncrea Marriott, President of the DuckenField Youth Club who organises an annual GSAT quiz to help GSAT students in St. Thomas prepare for the examination.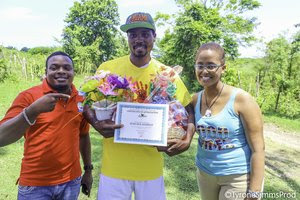 Or a dedicated volunteer who supports several community-based organisations like Justice of the Peace for Kingston and St. Andrew, Karlene Mills Barrett.


We select Unsung Heroes from any of the following community-based organisations:
-churches
-youth groups
-citizens associations
-advocacy groups
-support organisations for vulnerable populations such as children at risk, the disabled, women, etc.
And an Unsung Hero may reside anywhere in Jamaica. We are visiting all parishes!
We want to highlight all social leaders contributing to the positive development of this country.
HOW ARE UNSUNG HEROES IDENTIFIED?
Our first three UNSUNG HEROES were nominated and selected internally by the Live Well Jamaica board of ambassadors; just so that we could give YOU enough time to familiarise yourself with the initiative.
And guess what? We realise you love the initiative, it is one of our most popular categories on the blog!
So now it's your turn to identify UNSUNG HEROES.
We don't know them all so help us highlight the real heroes of this country; the ones who are influencing positive change.
Do you know a Jamaican who dedicates a significant portion of their time, money and talent to community development?
NOMINATE HIM/HER!
Requirement
-Must be a citizen of Jamaica
-Must reside in Jamaica
-Must be involved in community development/ not-for-profit projects
Open to all age groups and citizens from all parishes
Tell us his/her name, parish of resident and why he/she is deserving of this award.
SUBMIT NOMINATIONS VIA EMAIL info@livewellja.com; include your name and contact number.
You can also become a sponsor of Live Well Jamaica Unsung Heroes.
WHAT BENEFITS DO SPONSORS GAIN?
Sponsor's branding on all Unsung Heroes Paraphernalia (including the video feature) for the month of sponsorship.