Sankofa Arts & Facilitation, in partnership with the Department of Literatures in English, UWI will present Tribe Sankofa in three performances entitled WORD-SOUL – THE SUMMER EDITION at the Philip Sherlock Centre for the Creative Arts, UWI on July 27 – 29.
 TRIBE SANKOFA is a performing arts collective, under the guidance of Founder/Artistic Director Fabian Thomas, comprised of a vibrant and eclectic cadre of multi-talented performers who combine their artistry to add an exciting new dimension to the performing arts landscape of Jamaica and the rest of the world. Thomas describes their niche as "spoken word/poetry, soulful song-styling uniquely blended with other visual and performing arts".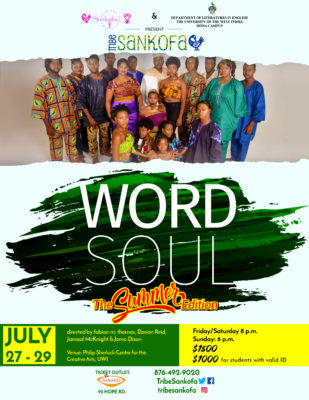 This year Thomas and his tribe are breaking new ground by moving from a one night-one performance season to a three (3) night-season that will feature the work of a diverse cadre of poets and playwrights including Lorna Goodison, Derek Walcott, Olive Senior, Dennis Scott, June Jordan, Ntozake Shange, Danez Smith and Toni Morison, as well as original scripts and vocal arrangements.
This year artistic team for Word Soul is comprised of Thomas, Assistant Artistic Director Darian Reid, Musical Director Jamaal McKnight, and senior Triber Jomo Dixon. As per their Word Soul format, the first half of each night will be staged poetry, spoken word and vocal performances, but this year the second half will focus on dramatic presentations. These will include Reid's staging of an updated excerpt of his original piece entitled Jamaica Land We Love? (presented in 2017), along with Jomo Dixon's new interpretation of the collective's critically-acclaimed and award-winning adaptation of Toni Morrison's Beloved. thomas will flex his comedic/farcical muscle with two short plays in that vein. McKnight will add his unique interpretations of reggae standards, as well as an original from his repertoire.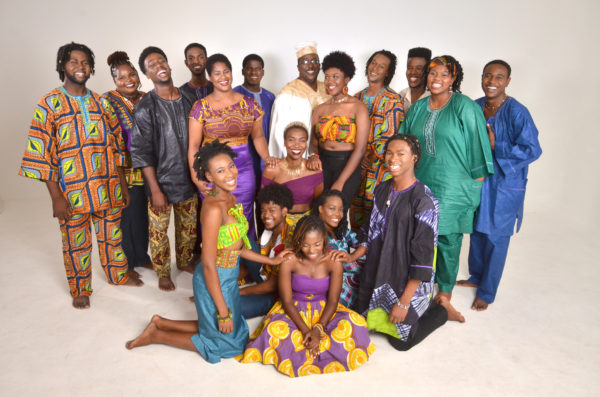 Tribe Sankofa is excited to have actress Shantol Jackson as their Special Guest, playing lead roles in two of the dramatic presentations. Jackson is gaining international attention as a result of lead and featured roles in three recent films: Michelle Serieux's Sugar, Storm Saulter's Sprinter and the highly anticipated Yardie directed by Idris Elba.
Tara 'tehrebel' Price and Zahra Warner will be guest performers, in the genres of dance and spoken word respectively. Triber and Apprentice with the internationally-acclaimed Martha Graham Dance Company Ricardo Barrett will participate via video.
Bookophilia is the official Word Soul: The Summer Season ticket outlet.