Whoever thought landscaping was a man's job has definitely not heard of Terrian Richards. As the only female on the 11-member Landscaping team at Sandals Royal Caribbean, this 31-year-old stands out not only because she's a woman but because her humility and industriousness make her an ultimate Sandals team member.
"People may think landscaping is hard for a woman but before I came to Sandals Royal Caribbean I used to work on a construction site. Landscaping is easier than that plus I love it and I have been trained in it," said the St. Elizabeth native who holds various HEART certifications in different agriculture.
She hasn't been at Sandals Royal Caribbean for two years, yet this rose among thorns continues to bloom, taking advantage of the training opportunities offered by the Sandals Corporate University.
She has completed courses in Supervisory Management, Communication and is a certified Department Trainer. She is sometimes called upon by her superiors to lead the Landscaping team in her manager's absence.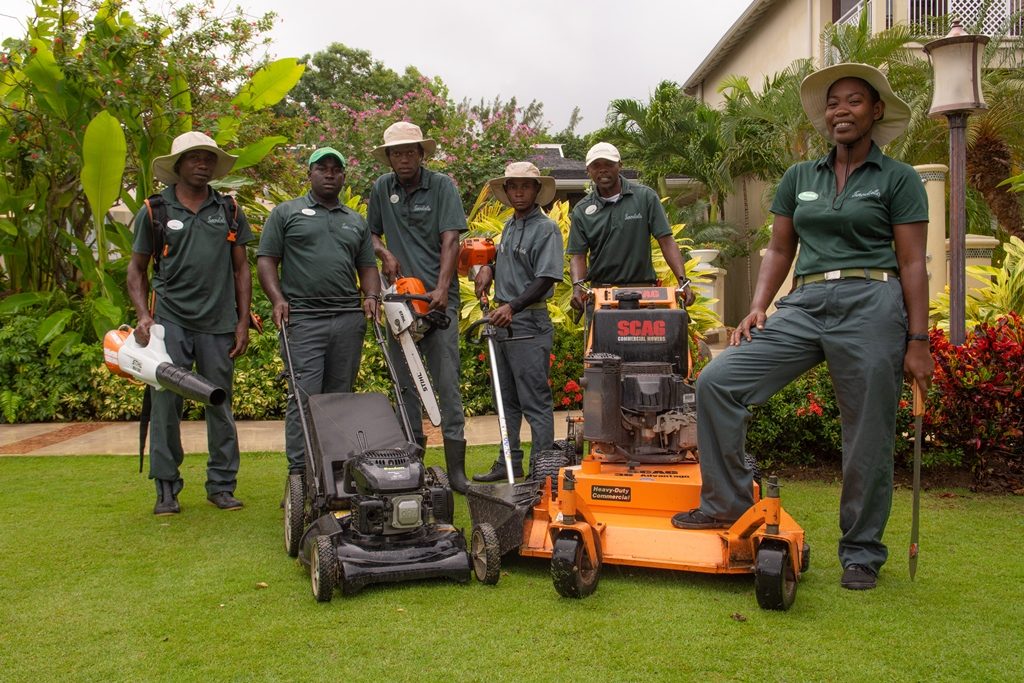 According to head of Sandals Royal Caribbean's Landscaping department, St. Aubyn Bryan, Terrian is a future leader.
"Terrian is like my second in command in the department. She knows the field work as well as the administrative functions and other leaders hold her in high regard."
Amid her landscaping duties, Terrian finds time to participate in community outreach activities as a Sandals Earth Guardian and Sandals Foundation Ambassador. This dedication to service has earned her numerous company awards including the Earth Guardian Award (for environmental stewardship) which she copped three times in 2018 and once in 2017. The resort also named her the Team Member of the Month for October 2018 and in 2017.
As she continues to bloom at Sandals Royal Caribbean, Terrian is confident that her hard work and continuous training will eventually land her among the cadre of female Landscaping managers in the Sandals group.
"I applied to work in the tuck shop at Sandals Royal Caribbean but when they saw my qualifications, they recommended landscaping. It goes to show that Sandals believes in people's potential whether they are male or female," Terrian said.