Last Friday, managers and team leaders from Sandals Royal Caribbean, Sandals Montego Bay and Sandals Inn traded in their high heels and bow ties for sweat pants and sneakers as they stepped away from their desks and got active at the "Get Up and Move Jam Session" held at Sandals Royal Caribbean's Private Island in recognition of Global Wellness Day. The workout session led by Sandals Resorts International's Group Fitness Manager, Melody Cargill saw members of staff participating in a mixture of low and high intensity exercises ranging from cardio and strength training to derivatives of yoga.
Through sweat, tears, laughter and dancing, the 30-minute workout session was a combination of pain and enjoyment as the management team worked together to complete each course. It was an afternoon of not only physical activity, but mental exercise and relaxation as team members took the time to unwind and reboot.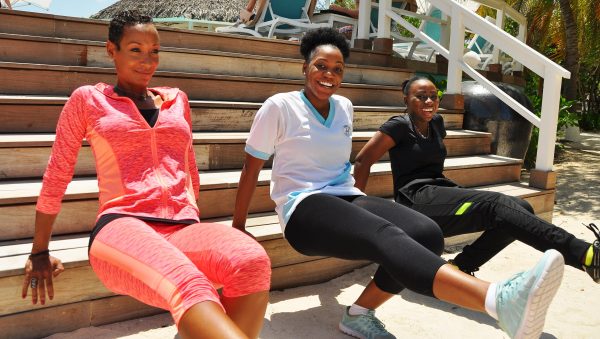 At the end, Cargill, urged members of staff to continue the momentum and engage in some form of physical activity at least three times a week for 30 minutes a day coupled with choosing healthier food options. "It's awesome that the team decided to take a leap and break from work to participate in this session, but it is important that we try to include exercise into our daily routines. Exercise not only helps us look good, but feel good as well," she explained.
Following this, Sandals Royal Caribbean's Executive Chef Delroy Dennis, prepared a healthy lunch inclusive of salads, grilled chicken with mushroom sauce, fish fillet and assorted fruits served with a natural ginger and mango blended juice. The afternoon was far from finished as he then introduced his sugar-free mango and chocolate mousse that kept the participants' mouths watering for more.
"It was a great opportunity for everyone to have fun and work up a sweat. Our aim however was not only to raise awareness but to endorse a healthier lifestyle by having our managers lead by example," mentioned Regional Public Relations Manager and the event's coordinator, Khadine Daley.
"I enjoyed everything about the event, from the jam session to the food and then one on one consultation with the fitness instructor. It was not only enjoyable but also insightful," beamed, Shanique Cunningham, Sandals Royal Caribbean's front desk supervisor.
"I have always wanted to be more health conscious but was not very motivated. This was a good jumpstart for my health journey," admitted an inspired Hatola Barnes of Sandals Inn.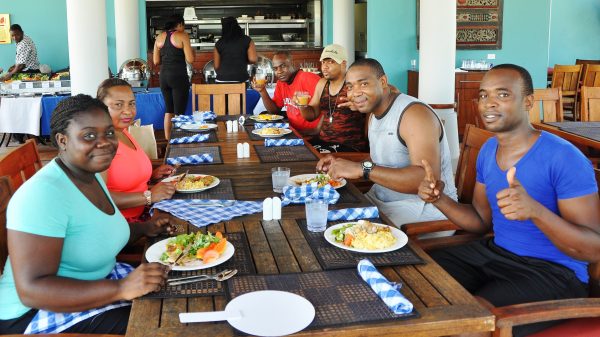 Over 100 countries across the world participated in the social initiative by means of doing some form of physical exercise, eating healthily or just treating themselves or someone to a therapeutic spa treatment. These are only a few of a plethora of options in which we can take care of our physical, mental and spiritual selves.