Hospitality workers and valued guests from Sandals Resorts in the Montego Bay Region brought life to the Summit Police Station as they joined citizens across the island in demonstrating their passion for development and protection of resources in recognition of the recently celebrated Labour Day.
Over 50 volunteers from Sandals Montego Bay, Sandals Royal Caribbean and Sandals Inn participated in the enhancement project to do general upgrades, cleaning and painting the station's exterior and offices. Members of the resorts' maintenance and landscaping team led the initiative and fine-tuned the efforts of the volunteers leaving the grounds and building manicured and polished.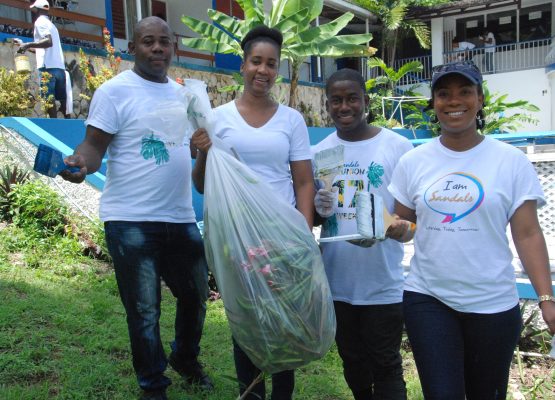 "Many corporate groups will be focusing on schools and infirmaries on Labour Day," says Regional Public Relations Manager, Khadine Daley, "We have placed much focus on these areas throughout the year.  As such, we wanted to take time out to reach out to the Summit Police Station which is located near the hip strip and is visible to locals and more so the tourists. We are very excited about this year's project and welcome the partnership with the police who continue to play a major role in protecting and serving our people."
The Labour Day activity represents only one of the several community development and renovation projects that the Sandals chain has initiated throughout the year with major projects being located in the rural areas of Jamaica.