Losing his mother to death at the tender age of seven, just four years after losing his father to migration could have ruined his life but it didn't.
He looks at his journey as a book, a non-fiction story with many chapters and a myriad of characters. The death of his mother serves as the preface.
Romaine Daley, 21, is the Diamond Team Member for the year 2017 at Grand Pineapple Negril Resort and Spa. He truly epitomizes a diamond as he is hard to break and rose to success after enduring a great deal of pressure. As you skim through a few chapters of Daley's book, you will see why.
"My father went away and left us when I was three years old. After a while, I was living with my mother and step-dad. My mother died when I was seven and my step-father sent me away from my family home to live with his family in another parish."
Daley recalls what life was like living with his step-family.
"I learned a lot living with them. They instilled morals in me that I carry with me even today. They are church people and because of that, I never missed church. I basically grew up in the church," he said.
Academically, Daley is someone that persons would dub a late bloomer.
"I was very slow at first and I began reading when I was in grade four. By the time I got to high school, I started picking up. I became deputy head boy of Knockalva Agricultural School in the 10th grade and I was the head boy by the time I got to the 11th grade," shared Daley.
"I graduated with seven subjects (CSEC) and I really wanted to pursue further studies in Agricultural Science but I failed Mathematics and would not have been able to get into the College of Agricultural Science and Education (CASE)," Daley added.
Daley expressed that he would've wanted to re-sit Mathematics but he was not able to offset the cost of the examination and the classes.
That was when he embarked on a journey to find a job.
"I went near and far trying to find a job. I went to wholesales and supermarkets but because of my denomination, no one was willing to hire me. I am a Seventh Day Adventist and my inability to work on a Saturday was problematic," he said.
One night while Daley was out on the town, he happened upon a woman struggling to carry her bags across the busy road and being the helpful, kind-hearted individual he is, he offered to assist. The woman went on to becoming one of the lead characters in the chapter of his story titled work.
"When we got to the other side of the road, she started asking me about work and I told her I was searching. She was working at Grand Pineapple and introduced me to the training programme there," recalled Daley.
That was in 2015. He participated in the resort's hospitality training programme and was later offered the job as a steward in the sanitation department. He was made staff after seven months on the job.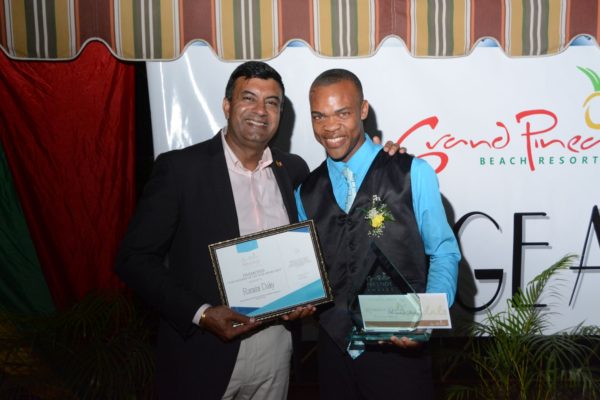 Daley's insatiable zeal for growth and development led him to cross-train in the dining room and at the bar. Though there was no vacancy in said departments, his temporary stints allowed his colleagues and guests to realize his potential.
While the work chapter of Daley's life was still being penned, the chapter on family endured another tragedy. This time, it was the death of Daley's brother.
"My brother was killed, right in front of me. I was emotionally wrecked. I was unable to sleep. I moved away from the community and had several trips to the doctor," he said.
And even during this time, Daley still worked with fervour and zest.
"I received the award for smile and courtesy and I received the mover and shaker award. No one could tell what I was going through because I was determined to push past the pain. The awards reminded me that I should not go seeking revenge, I should leave everything in God's hands," a seemingly emotional Daley shared.
For that year, 2016, Daley also received the People's Choice Award, a clear indication that he is a team player.
"I don't think I've ever heard Romaine saying no to a request. He offers quality service to guest and team members alike. He is a real people-person, a ray of sunshine on a cloudy day," said Executive Administrative Assistant, Nicola Griffiths.
Now, just a year later and after three years with the company, Daley has copped one of the most coveted awards and that is the Diamond Team Member award. Again, Daley also walked away with the People's Choice Award.
"I cannot even describe the way I feel. When I look back on my life and where I'm coming from, this award is proof that we should never give up and that with the right mindset we can achieve anything," Daley expressed.
Daley is currently employed to Sandals Negril, Grand Pineapple Negril's sister property. At Sandals, he serves in the capacity of a Junior Concierge Agent. This is yet another indication of his relentless push to grow.
While he is enjoying this chapter of his journey, he still has his eyes set on re-doing Mathematics. His passion for Agricultural Science has diminished but he still hopes to pursue college education. He believes he can really grow at Sandals and one cannot deny that this is very possible for Daley.
Well, his story is still being written and it is definitely best-seller quality.