The University of the West Indies has signed a contract with geo-data specialists, Fugro Geoid SAS valued at US$1.9 million to conduct LIDAR (Light Detection and Ranging) Data Collection and Processing for Jamaica and Haiti. The signing was completed at the Office of the Campus Principal on May 8, 2019. The assignment is funded through the Investment Plan for the Caribbean Regional Track of the Pilot Programme for Climate Resilience (PPCR) which is being executed through The UWI's Mona Office for Research and Innovation. Overall financing for the PPCR is provided by the Climate Investment Funds through the Inter-American Development Bank.
The consultancy will allow for the collection of LIDAR Data and processing it into bathymetric (underwater depth) and topographic (surface elevation) information/products. This data will be used for assessing coastal vulnerability and will further support climate analysis related to sea-level rise, storm surges, and flooding in the Caribbean.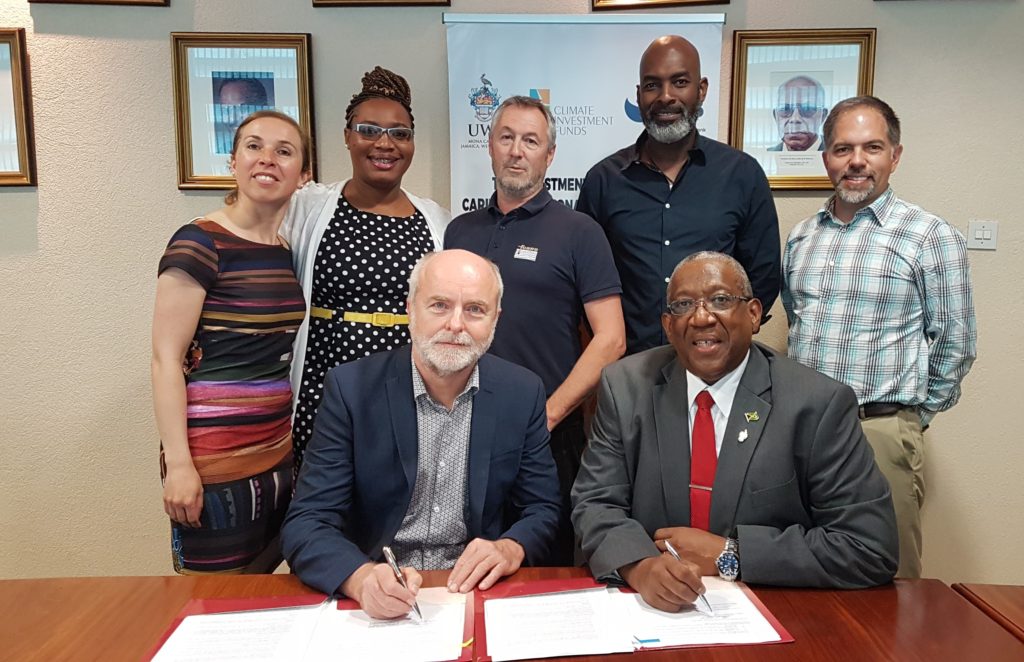 LIDAR is a remote sensing technology that uses light in pulsed laser form to measure variable distances from the earth. The airborne system also collects other data simultaneously which can then be processed to generate precise three-dimensional information about the shape and surface characteristics of the area being assessed. Two types of LIDAR are topographic which maps the land, and bathymetric, which measures seafloor and elevation of riverbeds. LIDAR technology provides a wide range of applications ranging from climate monitoring, meteorology, agriculture, construction, planning and more.
This LIDAR data collection exercise will add to the complement of data available to the region to further strengthen climate resilience and ongoing adaptation planning. The consultancy will also provide critical geospatial data for nearshore or coastal areas which includes information on the depth, width and flow of water which is useful in spatial and development planning for low-lying, flood-prone areas.