The lighting is just right, camera settings on point, the mood is set and he's off like a million shutterbugs. His aim, seven frames per pose at different angles. When he finally stops to inspect what he has captured only those that meet his impeccably high standards will remain. But that's ok, because the average photographer captures pictures; John McBean captures that thought-provoking imagery somewhere between raw emotion and art.
As Sandals Resorts International's wedding photographer of the year (2016-2017) and resident lead photographer at Sandals South Coast, John McBean has come a long way from his uncle's photo studio in Black River.
Growing up, John actually wanted to become a fire fighter. That was until he turned nine and developed this crazy notion, well beyond his years, that he wanted to work with people in love. "I just didn't know what that job would be, nor did I have a name for it," said John.
AN EYE FOR PHOTOGRAPHY
It all started to come together when John was 17 years old and held a camera for the first time. He was visiting his uncle's photo studio to get a portrait picture of himself.
"When I went there, there was a problem with the printer, my uncle was pre-occupied trying to fix it and his relief photographer was out for the day, so he asked me to take a few photos of the next client who came in and quickly showed me how to use the camera."
John was supposed to take a few test shots and call his uncle to take the others. "But I never called him, and when he came and looked at the pictures I had taken, he was very surprised. He said I seemed to have an eye for photography," said John.
Wanting to develop on what he saw to be a natural talent, John's uncle invited him to come back and work in the shop on the weekends. "My uncle taught me the basics of photography and shooting in film, but it was still just a developing hobby for me, certainly not something I planned to seriously pursue," John admits.
However, anxious to find something to keep himself occupied immediately after graduating from high school and with few options available in the town of Black River, John went to work in his uncle's photo studio full time.
As his images continuously met with positive feedback from clients, photography began to grow on John.  "Eventually I was reading film boxes and everything I could find about cameras and camera operations and the more I read and researched the better I got."
"Working in my uncle's studio was okay, I was making some money and it felt good, but it wasn't until I went to Sandals South Coast that I started looking at photography as a career."
PASSION FOR PHOTOGRAPHY
John joined the Sandals team in 2005. "At that time the hotel was using point-and-shoot cameras. Having learned to shoot in film, which was more technical, made the switch to point-and-shoot a breeze," said John. His knowledge and experience also gave him an immediate advantage.
Even back then the Sandals team saw something in him, perhaps the same thing his uncle saw. "They [Sandals] decided to invest in me. When Sandals first switched from point-and-shoot to Digital DSLR Cameras I was the first photographer at Sandals South Coast to receive one." By then, photography was becoming more than just a thing for John. "I knew I wanted this as a career."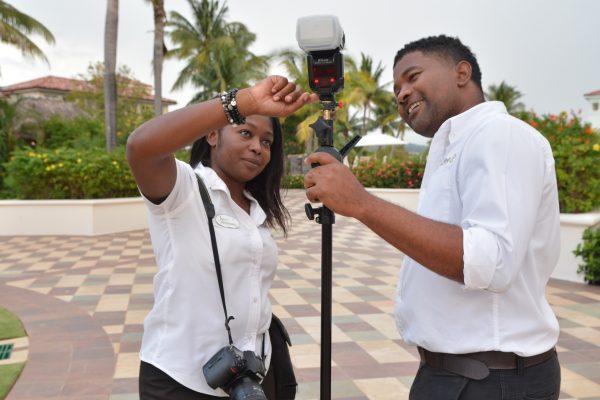 If there is one thing John's journey can teach anyone with a passion for something it's that you don't develop by comparing yourself to your peers. "I was studying the works of prolific photographers from around the world, their work was my measuring stick," said John. Sandals has sent John on many assignments to other resorts including Sandals Emerald Bay in the Bahamas, where he trained junior photographers to become wedding photographers.
He has won numerous company awards for his works as well as his uncanny ability to increase sales for whichever Photoshop he is assigned to. He has had his works featured in publications like OK! Magazine out of the United Kingdom.
Over the years, John has created a solid reputation for himself at Sandals and a very marketable personal brand. But he'll admit that his passion for people remains his secret weapon.
Meeting a client for the first time is crucial for him. "Really listening to your client, to their expectations is important but sometimes what is even more important is appreciating what is not said. Finding those emotions with my lens and having them frozen in time for the client to see continues to be my most defining moment," says John.
"I don't believe you can truly succeed as a wedding photographer unless you feel deeply and you know what it is to love," says the self-proclaimed romantic, "and before you can capture images that speak to people's soul you must first understand the human soul."