In this installment of Our Stories, Joan Steadman shares how she transitioned from a single mother struggling to provide for her children to an entrepreneur with a successful cake business. For many people, Jamaica is pictured as an island paradise – white sandy beaches, a beautiful and vivacious culture, rich and wholesome food, and attractive people. And while that image is not far from the truth, if the lens is focused on the inspirational stories of ordinary Jamaicans, you'd find a sharper, richer and truer image of the Jamaican experience…this is Our Stories!
Meet Joan Steadman- Entrepreneur and Owner of Just Cakes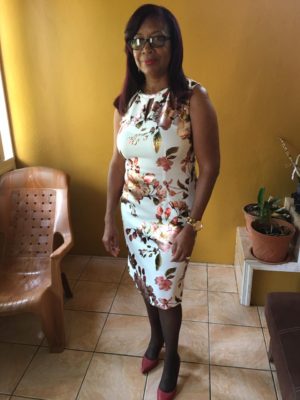 Popular Jamaican vocalist, Shaggy in his 2002 hit song "Strength of a Woman" lauds women across the globe for their undeniable strength due to their unconditional love, compassion, and kindness for others. Joan Steadman is one such woman of strength. She is classified as this not solely for the qualities she possesses but because she emerged as a victor during a rough patch in her life. Joan a mother of three struggled mostly with her two boys due to their fathers' financial absenteeism. Despite being in a rocky situation, Joan managed well and was able to provide financially for her children. This was after she opened up her cake business, 'Just Cakes' after the failure of another due to theft. Joan Steadman's story is one of inspiration and motivation for single mothers who are struggling to find hope. They are implored to press on and be the mothers they need to be for their children.
Was it burdensome being the main financial support for your boys?
Of course, it was. It was tough but somebody had to do the job and that was me.
Tough indeed but you managed well. Your boys did not have much financial support from their fathers but did they play their role in their children's lives otherwise?
Yes, they did. They did, they were not always there, but ummm they didn't do everything that they were supposed to do but they were there.
Why weren't the fathers of your children supporting you more financially?
Well I can't get in their heads but umm I know they could have done better but they did what they wanted to do so what they didn't do I had to pick up the slack.
Now you are married but when you were a single mother where did you gain your strength during times of struggle?
Well, I am not somebody to give up easily. I think that there's always a way and I was not willing to roll over and let the situation get the better of me. I fought. I struggled and I sought whatever employment I could.
A part from seeking employment, what else did you do to make ends meet?
Ok so, after a while I managed to open up a store with the help of….some very very good friends. The store was doing ok, you know it got off the ground, it was able to start paying its own bill and then one night I locked up, went home and the next morning when I came back the store was practically empty. That of course was very very frustrating, didn't know what I was going to do because I was getting accustomed to being my own boss.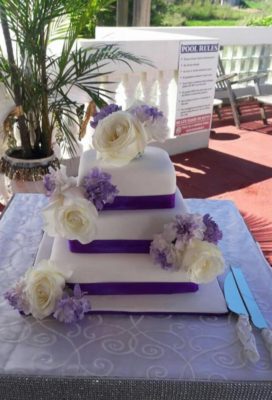 I am sorry you had experienced an ordeal such as that. A part from your store being robbed, what else led to the start of your cake business?
So, after the store was robbed, I closed it down and I was at home not knowing what to do. I used to like baking for my family on a Sunday and at Christmas times I would bake cakes for relatives, not selling them but basically giving my family and friends cake[s]. One day a family member said to me why don't I sell my cake[s] because they are that good. I couldn't decorate but I could bake so I went and did a little decorating course and hence I started my business.
Hobby turned business. When did you really see your cake business take off?
After some years and going back to school to do advanced courses I saw the difference because now I could do different techniques that I didn't know how to do before so the business was doing pretty good.
Glad to hear! Tell us about that time when your business seemed to be headed for failure.
Yes, there was a point in time where it did seem like it was going to fail…partly it had to do with me because I left and went and when I came back, I lost a lot of customers so I had to like start all over. As I said before I'm not a quitter, I don't give up that easily so I did what I had to do to get my business back up and running.
You had to go away and the cake business stalled…go where? and why?
I had to go overseas to work. It was a[n] easier way of working money and so I did that and…my cake business suffer because I lost my clients. They brought their business to other persons and so I lost of customers and the bigger ones.
How did starting your business change your life and the lives of your children?
For one it allowed me to stay home, be a mom and also be my own boss. Working at my own pace made a difference. I was able to do what I had to do at home and still run my business. And of course, it practically sent one of  [my] son's to school because business was good and I was able to bake five-six times a week and so I was able to finance him. I remember those days the first money I worked I would put it aside and say ok this is to send my son to school because he had to travel far, he had to take three taxis to get to school. My other son went to a high school in town so his expenses weren't as much as the younger one but yes that's how I sent them to high school.
How did that transition from single mother to wife affect your business?
That didn't affect my business any at all. [As] a matter of fact it brought some form of stability to my business. I was stationary, in one location, had a permanent location so it was good for my business.
You have been in business for 19 years, what's next for your business?
The next step for my business is to even grow it bigger by going back to school, keeping up with the latest trends, designs, being out on social media, [and] advertising. The aim is to build my business even further so it can be a multimillion-dollar one.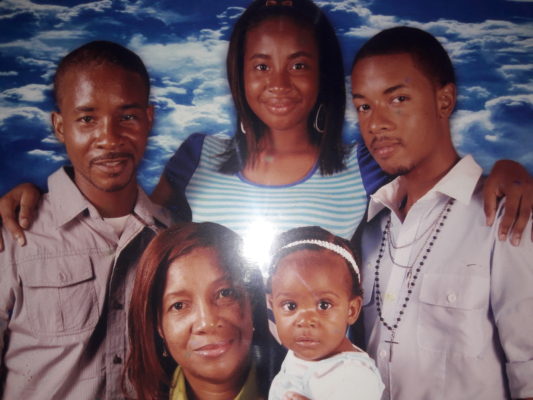 What do you say to single mothers who have been in situations like yours?
I would say to them that there's always a way. Don't give up. You can find legal things to do to help yourself and take care of your children. One thing that helped me is that I have a very very supportive and strong family and they were there for me.
Thank you for sharing with us Joan, we were extremely touched. It was a pleasure listening to your story.