Jamaica's National Spatial Plan on Tuesday, (April 19, 2018) received a boost with the announcement of seven technical papers to be prepared to inform the further development of the Plan as well as prepare the country to adapt to climate change impacts.
"This National Spatial Plan (NSP), which is the strategic framework that will guide national development and investment decision making, will greatly improve the efficiency of development application and review process," said Permanent Secretary in the Ministry of Economic Growth and Job Creation, Ms. Audrey Sewell. She was speaking at the signing ceremony of the contract for the seven technical papers for the NSP at the Office of the Prime Minister in Kingston earlier this morning.
Spatial planning refers to the various approaches used by the government and non-government stakeholders to influence the distribution of people and activities in spaces of various scale. A National Spatial plan is important to the sustainable development of and use of a country's resources.
"We are in the age of information technology and it is significant that this NSP goes beyond being a paper document to be a fully functional National Spatial Planning Information Technology (NSPIT) Platform," said Ms. Sewell. "This platform will be accessible to the general public and aims to provide spatial planning database and information to support online application and processing of development applications. Therefore all the ministries, agencies and departments involved in the development processes will benefit from a state-of-the-art and dynamic IT-supported spatial plan."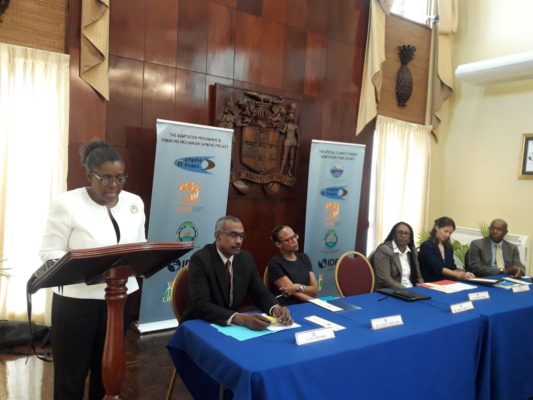 The seven technical papers are expected to provide updated information to ensure that the NSP can optimize the use of the nation's land and marine resources for development planning. The contract to do the seven technical papers have been awarded to Acclimatise, a UK based climate change adaptation and risk management advisory and analytics company. They were selected after an extensive bidding process under the Adaptation Programme and Financing Mechanism (AP&FM) of the Pilot Programme for Climate Resilience (PPCR). The AP&FM has provided funding for the implementation of the 14-month consultancy to produce the technical papers. Overall the consultancy will (i) determine the current situation and any gaps in Jamaican climate-related/spatial planning data and information, (ii) assess relevant datasets and then rationalise and map the most critical data for the NSP, (iii) identify medium to long-term climate change impacts and recommendations on climate resilient spatial planning, and (iv) present findings in seven (7) technical papers which will be used as inputs to the forthcoming NSP.
"The technical papers will help us to ensure that the NSP is climate resilient. This is crucial for Jamaica to achieve its sustainable development goals," said Dr. Winsome Townsend, Project Manager for the AP&FM. The technical papers will focus on:
1.    Social Amenities: Educational Facilities; Health Care Facilities; Facilities for Sports, Recreational and Leisure; and Religious Facilities.
2.    Public Utilities Infrastructure: Water Supply Infrastructure, Waste-water Infrastructure, Solid-waste Management Infrastructure, Transportation Network: Roads, Highways, Bridges, and Drains; Electricity Network, Fire Management Infrastructure and Telecommunications Network.
3.    Human & Industrial Settlements: Settlement Structure, Housing Infrastructure, Commercial Facilities, Industrial Facilities (including Tourism and Agricultural & In-land fisheries).
4.    Environment: Ecosystems (Biological Resources & Diversity), Forests, Protected and Conservation Areas, Heritage & Cultural Facilities, and Water Resources: Watersheds; Rivers, Streams, aquifers etc.
5.    Land Resources: Soils; Minerals Resources; Geology; and Topography.
6.    Coastal Resources: Sea Level Rise, Erosion of the coastline/beaches, and Salt Water Intrusion.
7.    Marine Resources: Exclusive Economic Zone (EEZ), Threatened Marine Ecosystems (e.g. coral bleaching, depleted marine fisheries). Visitwww.ppcrja.gov.jm for more details.
"This initiative is very important for Jamaica's sustainable and climate resilient planning which is also the core of IDB's business. We look forward to this being a very useful tool to identify what the island has to offer and where are those most problematic and vulnerable areas," said Therese Turner-Jones, General Manager Caribbean Country Department for the Inter-American Development Bank (IDB) in her remarks at the signing ceremony.
The IDB in association with the Climate Investment Funds and the government of Jamaica have provided funding for the AP&FM project.