Beaches Negril's Team Member of the Year shares her story of growth
Though small in stature, Genette Murray is someone reggae singer, Christopher Martin would describe as a "Big Deal" as she was recently named Diamond Team Member of Beaches Negril Resort and Spa.
The 24-year-old reservationist and front office supervisor is proud to be carrying the mantle of resort ambassador.
"I look back at my journey now and I am happy that I defied the odds and found the courage to go on even in the moments when I thought I couldn't. It all paid off and I couldn't be more proud," shared Murray.
She has every reason to be.
Murray joined the company at age 18 through the Hospitality Training Programme mainly for the experience and an insight into what the working world was like.
Despite her initial passion for medicine, Murray grew to love and enjoy her job so much, that she has now found her place and home in the hospitality industry.
The graduate of Petersfield High School in Westmoreland expressed that even after losing her father at only five months old and growing up with just her mother and seven siblings; she always thought she was wealthy. As a child, she did not know or understand the struggles and sacrifices her mother had to make for them.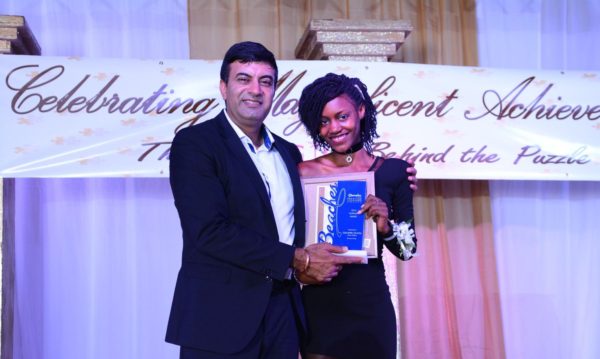 "I did not know I was poor. I remember kids not coming to school because they didn't have it, and they had both parents. It's not that I really had much but I had a mother who was like superwoman. She went the extra mile and everyone was always fed and in their beds at nights. I can't remember going to bed without eating," an emotional Murray recalled.
It was not until high school that she was able to understand what her mother had to endure so that she and her siblings were comfortable.
"In high school when I realised how much my mother was struggling, I promised her that I would make her proud by being successful. I promised I would always be there for her," she said, visibly fighting back the tears.
Of course, her words never fell flat.
After completing high school and joining the hospitality training programme, she embarked on what many would dub a successful journey as she boldly navigated her way through the ranks which have seen her hold a seat right next to the front office manager and has placed her in contention for top team member across the entire Sandals chain.
Is her mother proud? Without a doubt she is.
"My mother is already very proud of all I have achieved. Being named team member of the year cemented what she has always seen in me—success! I promised her I would be a success and that is a promise I will always aim to keep," she said.
Beaches Negril's general manager, Surinder Kahlon, is proud of Murray and believes she is a story worth celebrating. "Genette is the epitome of service excellence. She stands tall in her competence in front office operations and above all in her gracious, winning manner with our guests. She ensures that our finest service promises are delivered with excellence. We celebrate her on behalf of a team whose ultimate success is mirrored in hers," he said.
She finds meeting the needs of guests and just seeing them smile overwhelmingly fulfilling. She expressed that she believes she was "put on this earth to make people happy".
"They work really hard throughout the year for such a vacation, and if they're going to spend a week with us and we can make it magical, trust me it's going to give you a more fulfilling feeling than any paycheque you can ever receive," she shared.
In November, Murray will go up against 23 other team members across the Sandals and Beaches chain who are vying to cop the coveted title of the ultimate team member.