In this installment of Our Stories, we will take a look at the life of inspiration and upliftment lead by Afifa Aza. For many people, Jamaica is pictured as an island paradise – white sandy beaches, a beautiful and vivacious culture, rich and wholesome food, and attractive people. And while that image is not far from the truth, if the lens is focused on the inspirational stories of ordinary Jamaicans, you'd find a sharper, richer and truer image of the Jamaican experience…this is Our Stories!
Meet Afifa Aza – Operator of the Institute of Social Leadership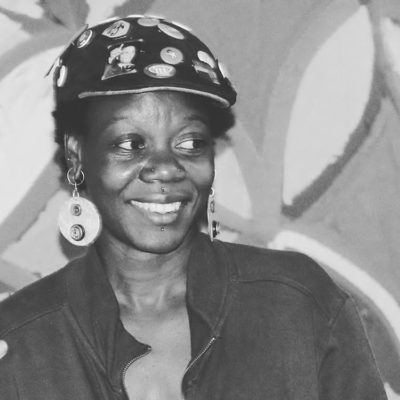 While Jamaica is depicted as an island paradise to the rest of the world, we still have our own set of social crises. So it is wonderful to have someone like Afifa who is dedicated to uplifting society through community, art, music, and education. Afifa encourages people to read more and think more and talk more with each other as a way to move forward.
Dedicating her life to music and art, Afifa Aza is a DJ on Zanj Radio, which is an internet-based radio station. She also operates the Institute for Social Leadership or ISL in Cross Roads where visitors can come in and read or just host conversations. She simply lives for the arts. Adding to her portfolio is the fact she has authored books and poetry of her own, which have been published online. Despite the challenges that life may throw at her, Afifa Aza never abandons her message of black consciousness and equality which she shares with others through the art that she creates. Besides spreading her message through her creations, Afifa Aza also has the opportunity to influence society by tutoring in Gender Studies at the University of the West Indies. Her story will inspire others to find their message in life and share it with the world.
Afifa, let's start by talking about the Institute for Social Leadership. I took an afternoon to read down there. It was like a little book club. Tell me about that?
Okay. ISL, the Institute for Social Leadership. It's more like a space that has books and not necessarily a book club. I think it was started maybe four years ago now. It came out of an idea that I was working with about creating spaces. Before the Institute, I had co-founded the HQ, which is in Stony Hill. That's where I am right now. So with the HQ, we organised events featuring different types of music and art. Then later on Zanj Radio joined and is still here now. So ISL really came after that. It was an extension of the idea of creating spaces where people could just come together and do creative things. However, it was different in the sense that it was focused on learning. 
So what prompted you to make such a move? 
My experience with university education is that there is a lot that you can get from a university education. However, after that, you don't really have much contact with people without a university education. So interesting books might stay in the university library instead of being accessible inside of communities, you know? We only have the national library. It was an attempt, I guess, to integrate several things. At the time I was also working with the government at the Jamaica Association for Life-long Learning. I saw the challenge there with young people who were leaving school without CXCs and just being problematic, getting in trouble with the law, and not having enough things to engage them. So I thought it would be cool to create something that could work like that. It would be a place to learn interesting things and it could be [a] place to provide what we call social support to young people who want to continue their educational or help with choosing a career. So that was the initial idea. Along the way, it changed a lot. It went through several different phases.
 Cool, what sorts of changes did it go through?
At one point we had someone from the neighbouring community of Allman Town in charge of the place. The kids from the community would come by. We had one person from Aruba and one from Canada at one point working with the kids on different projects. Then after that, less people were coming. It's not open every day now. It is open on Wednesdays. Initially, though it was a learning space. We used to have different talks and lectures there. It was this concept of a community university. So that aspect is still there. We are just not organizing a lot around that right now.
Understood. So when you were creating the space, did you encounter any challenges?
Well, there are always challenges. We didn't have any money or sponsors like that. I depended on my own funds and some people close to me. Also having people to help to build up the organisation was a challenge and still is a challenge. We just used pure determination to get it to where it's at. It was more of a personal sacrifice I would say. It's just a part of something that I enjoy. When you think about being in a city, I think a city should have places that you can learn. Not just a university but places that you can meet people and learn. Not just eat food and leave or hang out on a date. Really a constructive or creative place that you can learn from people. It is somewhere that I enjoy going to. I like the idea that it exists. So we just keep doing it.
So the time that I was there I saw a lot of artwork that reminded me of African beliefs or Rastafarianism. Is that your belief?
I believe in life. Definitely, though, Rasta is a big influence. Africa is a big influence. I'm an African more than I am Jamaican. I live in Jamaica but my ancestry, that's what I claim and that's what I start-up in, African ideas. I think Rastafarianism would have more of a problem saying that it is the belief here than I would. Rastafarianism has certain things that it claims and owns and others that they discard. So I don't have locks, so why would it be Rastafarian? Still, I don't need to classify myself as a Rasta. I'm an African woman. I am a human being. I think Rastafari is very important to understanding Africa. So it's one of those things.
That is really interesting. So switching gears just a bit, DJ Afifa, tell how you got into music?
Music is what brought me into art. I completed all of the levels of university to get that career that you are expected to get after university. However, I've always had a love for music and in high school I loved history.  It was music that I loved first, though. However, I never stopped liking history because I never stopped trying to understand myself. I became a DJ because I decided to try to do something that I always saw myself doing. There was a conflict about whether I was going to be a researcher or a lecturer or a development specialist or I was going to be a DJ. People would tell me that I have too much education to be a DJ and that I shouldn't because I don't play dancehall music in a certain way. So I went to England for a year on a scholarship and I realized that you had neuroscientists who were DJs. You had lecturers who were artists. So I just decided to finish my degree but still become DJ Afifa. When I came back from England I started to organise events just to give myself a space. I had to create my own space because if you approach a venue to host an event, if it's not about making money they won't give it to you. I had a friend who encouraged me. So we did it together, just having these events around Kingston. Right now I'm growing the DJ thing out of just being a female DJ. I now have a record label called Di Sound of life. The website is disoundoflife.blogspot.com. I am working with independent artistes. Just in my own way making my own concept for things.
Great. Sounds inspiring. So it sounds like the HQ is the space that is dedicated to music and ISL is dedicated to literature?
I would say ISL is dedicated to learning. Both the HQ and ISL accommodate music but just in different ways. I always try to tie it back to the real love which is music. The HQ is actually a residential space. We live here and work here. Zanj Radio is based here. We would go down to Marescaux Road to ISL to really host events and then come back up.
Okay. Understood. So I understand that Zanj Radio is an online radio station. How can people tune in?
Okay. You can go to Zanj.org. There is also an app that you can download. So you can look for the Zanj Radio app. You can also check for updates on Zanj Radio on Instagram at SoulHQ. I have a show on Zanj Radio called Electromagnetic Radiation on Fridays from 10:00 PM to 12:00 midnight. You can even check out the Zanj Radio Mixcloud page for past episodes.
Cool. So what are some challenges along the journey that you have had to overcome to get here?
Maybe still overcoming. It's not even like you get over it. You just make up your mind to try something else. So when you are a woman or when you come from a certain place or when you look a certain way, Jamaica can be a very hard place. There are many talented people here but there is a lot of bad mind and cliques. So I find it difficult to work with people. I think that's been my biggest lesson from the whole experience. Just seeing the revelation of how people are. It's very difficult. People don't support each other. They are not interested in your work. They are interested in you. If they think that you are better than them, that's a problem. It's very competitive and very divided. That's a problem all around. It just makes it that you're working in a very small group of people. Right now there is about three or four people in Kingston or Jamaica that I would work with or share my ideas with. As a creative person, you get a lot of energy from the things that you create. So it can sometimes be kind of a lonely existence when you don't have that space where people genuinely appreciate sharing each other's work and supporting each other. So we have to struggle through because we don't want to come together.
Okay. I see. I know that you have been DJ Afifa for quite some time now. How has the reception been from Jamaican people for you as a DJ?
I don't know if it's Jamaica or Kingston but it's very difficult to expand certain ideas. When you think about a DJ, people think about a DJ at a party or a DJ on a radio station. If you do a combination of that, more than that, or something different from that, sometimes it's too different to be engaged. I think that people can stretch themselves some more to become interested in different things that come from Jamaica. You don't have to wait until you see it in America. We have people in Jamaica that are very, very creative. However, we don't pay attention to that because we don't have the capacity to see. We can only see it if it's foreign branded or white or something like that. So that is also challenging too because sometimes people think it doesn't make sense. They think you're crazy. However, if a white person is doing it or if a non-Jamaican person is doing it then it makes a lot of sense
I understand that completely. I see. So if people want to be a part of ISL or Zanj Radio, is there a way that they can be a part of that?
Well, if you're interested in a program on Zanj Radio you have to submit your request to the station manager and he will consider it. If an artiste wants to be produced by Di Sound of Life, they can send an email to disoundoflife@gmail.com. Just send an email in what you're interested in and a sample of what you've done before. Also, if you want to be a part of the ISL, basically, we're open on Wednesdays if you want to give time or if you want to buy a book or even tell people to come buy a book. If you want to host a conversation you can do that too. It really is an artistic space. A space that you can just come and be yourself. We don't discriminate against anyone. It's just about respect and conducting yourself in a mature way. Just come and do something constructive. That's also part of the problem when it was stated to be a queer space.
Okay. Can you explain how the idea of it being a queer space became part of the problem?
So you had queer people coming and then non-queer people would not want to come. Then some queer people would come with some non-queer people. So it was just a lot of back and forth. So now I have decided to kind of leave the queer off the labeling of the space. The real description or label is that it's a creative space
Okay. I understand. So Afifa, is there any advice that you would give to other creatives in Jamaica or Kingston that is experiencing the same types of struggle, for example, not being understood or accepted?
From all of my experiences, I would say that you have to be confident. You have to believe in yourself. Believe in yourself and your dreams and your ideas and listen to yourself. You can listen to other people but more than anything, believe in yourself. If you can see yourself doing something just try it and work on it. It might take many, many years but if it's something that you really want or you really love or that you enjoy, you should do it. A lot of people will say that you're crazy for doing it but believe in yourself. You can do it.
That's some good advice right there. Thank you. For the future, now, as you move forward, where is DJ Afifa going from here? Any new plans or projects coming soon?
Yeah, man. So we're working on more spaces. The record label is doing a lot of different projects. We just got accepted to go to an art show in Haiti this November. So when I say we, that is myself and Zanj Rracc and an artist from the US. We are coming together to do a project. So we are preparing for that and that's kind of exciting. I'm also working on a project called Music of Memory right now. I'm hoping to create some kind of useful application for music. Most people just listen to music to relax and calm their nerves. I want to use it to apply to problems. For example, Alzheimer's is a big problem in many societies including Jamaica. So I'm just thinking of how music can affect people with Alzheimer's or even prevent them from getting Alzheimer's. It's kind of an investigative study. I think I want to see music in Jamaica be more than just entertainment but something that can help real life. The best way to stay up to date on my projects though is through my blog or Instagram. The blog is amedjafifa.wordpress.com . DJ Afifa is going into many new areas. I just want to be the best creative person that I can be. Whatever is inside, the plan is to get it to come out. I have also started to make some sound sculptures that you can put in different places. It's just expressing all of your creativity. We can have a different society with art and just being creative.
Awesome. That sounds really interesting. Those are some very cool and unique projects that you will be embarking on. Thank you, DJ Afifa, for sharing with me today.
Follow DJ Afifa on Facebook at DJ Afifa and Instagram at amedjafifa. Get updates on the ISL program at leadtochangeja.wordpress.com. Also, keep updated on what's happening with HQ at soulhq.blogspot.com