The Red Bank Primary and Infant Department is now safer and more secure thanks to the recent installation of a perimeter fence around the school compound.
The school, which was only 55% enclosed in prior years, solicited the help of the Sandals Foundation to complete the project and repair the damages done to the previously erected fence line.
With the constant flow of public traffic on the school compound and the ease of access that compromised the security and supervision of the over 150 students, the Sandals Foundation saw it necessary to jump on board and provide assistance.
"The security of the school site over the years has always been a problem and we have been victims of vandalism. On numerous occasions we have returned to school after the weekend or holiday periods to find windows broken out, walls defaced or the school's water tank empty," shared the school's principal, Clover Evans.
The project, which received a $250,000 JMD donation from the Sandals Foundation was also supported by the Canadian Rotary and funds raised by the school.
"I am thankful to all our donors," said Evans. "Thank you Sandals Foundation for always extending a generous hand to our school. We are glad to have our school grounds now secure and we can now focus fully on educating our students without worrying about safety issues or loss of school equipment."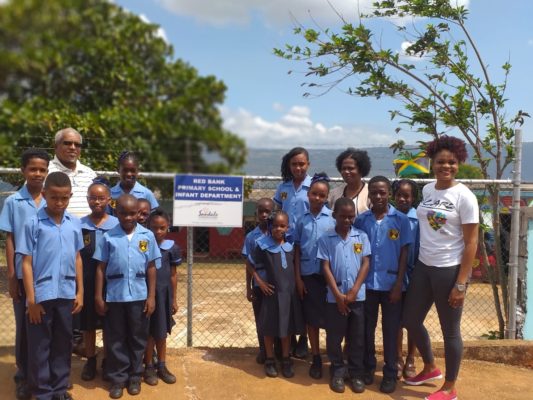 Executive Director of the Sandals Foundation, Heidi Clarke, said the Foundation remains committed to helping schools across the Caribbean create the safest and most conducive learning environment for children.
"While it is critical that students have the resources they need to excel, we cannot undervalue the importance of ensuring that their learning environment is also safe and encouraging to the positive development of our children. We are very happy to be able to assist the Red Bank Primary and Infant School and this regard and we hope that the added security will be another factor that helps the students excel," Clarke said.
Sandals Foundation was also instrumental in the refurbishment of an old tank at the school which has the capacity to hold 3000- 4000 gallons of water. "No longer is our janitor expected to walk around the school with buckets of water to flush our toilets! Thank you for helping to make Red Bank Primary, the school of choice," shared a happy Clover Evans.