"The only limit there is in Tourism is the limit you place on yourself," was the statement reiterated by Jamaica Hotel and Tourist Association Vice President, Robert Headley as he addressed over 200 students attending a World Tourism Day open house at Sandals South Coast as part of the resort's Tourism in Schools initiative.
Headley, who shared his own journey within the industry from a mini bar attendant at Sandals Royal Caribbean to the office he holds today as Vice President of the JHTA, encouraged the students to think big picture when considering a career in the hospitality and tourism industry. "As you prepare to enter this exciting industry, it is important that you know your island, explore your island and understand what Jamaica has to offer to the world," he said. He also encouraged them to look at how tourism connects the dots with other industries like transportation, craft, and construction and explore opportunities in emerging industries that are driving tourism like tours and weddings etc.
The open house event was part of Sandals South Coast's ongoing Tourism in Schools initiative. The Tourism in School initiative provides opportunities for students with an interest in tourism and hospitality to experience resort operation first-hand and interact with hospitality professionals thereby making them more prepared for a career in the industry.
The event attracted final year students from four high schools in Westmoreland, St. Elizabeth and Manchester as well as students from Shortwood Teacher's College and the Heart Trust NTA in Culloden.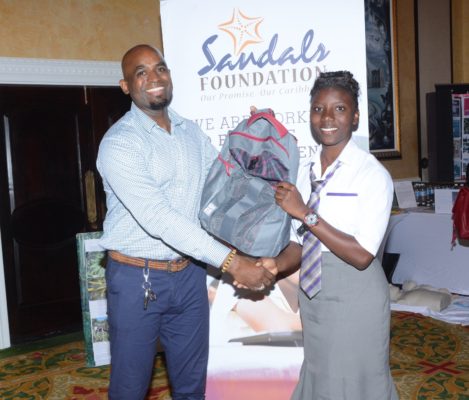 To begin the day's proceeding, Sandals South Coast General Manager, Adrian Whitehead welcomed the students and encouraged them to gather as much information and contacts as they could in helping them to better determine what area of hospitality would suit them best
Thereafter, the students floated around the resort's grand ballroom, which had been transformed into a kaleidoscope of miniature display booths showcasing various resort departments.  Among the key departments presented were food and beverage, rooms division, watersports, weddings, landscaping, loyalty and travel and sales, as well as various revenue areas and administrative departments like information systems, public relations and environment, health and safety.
Comis Chefs in training who were in attendance at the event also had an opportunity to tour the resort's expansive kitchen facilities with resort Executive Chef, Marco Goldin, and his team. For Rogelio Grant, a Chef de partie in training at Culloden Heart Trust this experience was especially useful. "I found the tour of the kitchen facilities and its operation to be very informative as I one day aspire to work in a similar facility," said Rogelio. He described the atmosphere in the kitchen as very fast-paced.
"Everyone there seemed to know exactly what they're about and the stations within the kitchen were organized and easily identified," Rogelio further noted. "Chef Goldin also reminded us that no matter where we go the rules of the kitchen remain the same". His 'take-away' for us was to ensure that food preparation is something that we're truly passionate about and then just be prepared to work hard and always keep developing."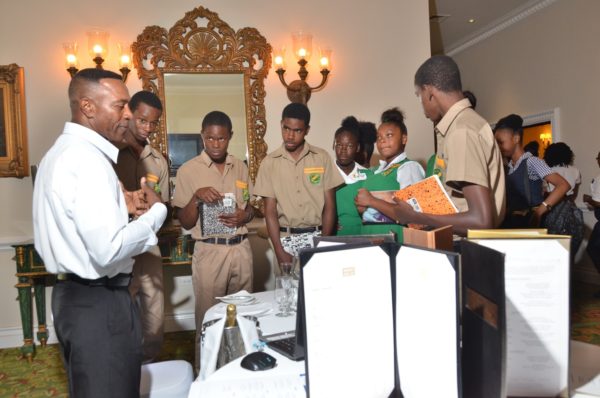 In keeping with the theme of the day, Tourism and the Digital Transformation, students also received instruction from resort Information Technology Manager, Richard Griffiths, on how Sandals Resorts was using digital technology to serve guests better.
Sixth form students at Black River high, Annika Gray and Shevieka Laird, who we caught up with during the expo, expressed their gratitude to Sandals South Coast for hosting the event. "This is my first year doing tourism and hospitality and the World Tourism Day expo at Sandals South Coast really helped to open my eyes to what's available," said Gray.
For the management team at the resort, the open house was also a recruitment drive. "We are passionate about hospitality," said Training and Development Manager, Lennox Lawrence, whose office helped to organize the event along with public relations. "It is for this reason why we are always looking for opportunities to share our experiences in this industry with the next generation of hospitality professionals. "In addition to sharing information with the students, we also want to connect them with the resort particularly those who have a real interest in working in the hotel, and maybe job-hunting as early as next year."