In our first installment of Life of Success, Petergay and Herbert reflect on their decision to open a bar and lounge after one year of friendship…Jamaica is the place to do business! And in this series you'll learn how ordinary Jamaicans innovate, produce, package and distribute their version of Brand Jamaica! This is Life of Success.
Meet Petergay Davis and Herbert Sullivan
In 2016, common interests led to the start of a beautiful friendship between the two food and beverage enthusiasts. At the time, Petergay, single-handedly managed a catering service, and Herbert was busy with his most recent business venture setup to package and export Jamaican spices.
Months into their friendship, they learnt that a quaint, run-down bar space off Red Hills Road was up for grabs. And they quickly seized the opportunity.
Two months shy of January 2017, Petergay and Herbert opened the Icebox Lounge, a redefined entertainment spot replacing the shabby 96 Red Hills Road bar space.
Jamaicans living in Kingston 19 would be familiar with this bar which sits at the corner of Whitehall Avenue and Red Hills Road.
However, the young entrepreneurs say their aim is to attract a younger, female crowd, to re-energize night-life activities in the area.
1.Why did you decide to do business together after a year of friendship?
Petergay: Based on intuition, normally I don't necessarily click with somebody. But you just  pick up on it instantly, I said 'alright there's some potential there'; friends you meet and you know it is forever.
Herbert: For her age, she is knowledgeable. We trust each other's judgments and we realised we could benefit from this partnership. It was a spur of the moment situation. We are currently in the process of opening a café, that's our actual dream.
Petergay: Early 2016, we decided we wanted to do a coffee shop offering a variety of stuff. We were in search of places and we came up on this location. They basically said all is yours and we capitalised on the opportunity.Instead of the one-off catering, we wanted something full blown, a bar and restaurant which is why we have the lounge. It's just that we're building up the restaurant right now. And we're still looking to do the café and much more.
2. So Icebox Lounge will be a bar, restaurant and café?
Petergay: No the Café will be somewhere else.
3. Okay, that's further down the line.
Both: Hopefully, not too far (laugh in unison).
4. In terms of start-up, how much money was invested?
Petergay: The start-up capital was between JM $200,000- $300,000.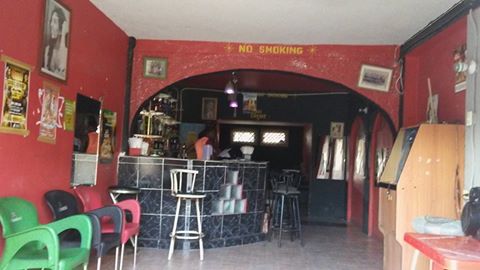 5. Was that from a business loan?
Herbert: From pocket. That's a huge investment.
6. What does Ice Box Lounge currently offer its customers?
Herbert: Just like a regular bar we offer drink mixes and entertainment, the karaoke on Thursdays, and Saturday's Bar Vybz. The karaoke did well for the first night and we're looking for a bigger crowd each Thursday. Our host is exceptional, Jamaican Tina Turner.
Every Saturday we have a Bar Vybz Lyme session where we just want people to mingle. Unlike regular bars, we'll have the music, entertainment, and a few girls to go around and interact with customers.
7. How is Ice Box Lounge different from the previous bar that occupied this space?
Herbert: A lot of people when they walk in, they get a different feel. (In the past), this was not your regular chill spot. That's what we want to change. The bartenders, the management, we interact with customers more. Most people who come in here don't know that we're the managers.
Petergay: We mingle with everybody, we're very involved. We don't want people to say 'oh they're management so they stay to the side'.  We really want to be a part of it. And just build relationships, that's the aim.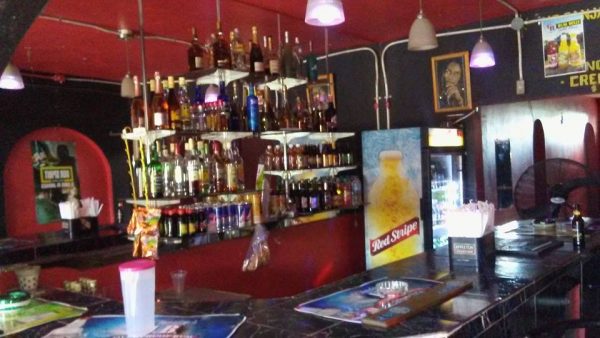 8. Sounds good! What are the main challenges you've encountered since the bar opened?
Herbert: The overhead expenses- rent, water bill, electricity…And we're trying to build a customer base but that's challenging. We've been to other bars to build friendships through interactions and we're building our customer base.
Petergay: We're new faces to the area so we're trying to get persons to know us.
Herbert: Red Hills is a very close knitted, family type area. There are a lot of groups, young groups, so if two friends from the area like the bar then the rest will follow. What you find is that most people go out of the community for entertainment, we want to change that. We want to make it friendly and open.
9. In terms of target customers, who do you target?
Herbert: We discuss this quite often (laughs)
Petergay: Yes (we do). Our target customers are really men, working class men 20 (years) and upward.
Herbert: And females…
Petergay: that's the thing we're trying to figure out. What would appeal to them? To get more women to support the bar.
10. Anything in the pipeline for Ice Box Lounge?
We have our Round Robin Coming up on March 4.
I'll definitely mark the date on my calendar! All the best Petergay and Herbert.
Have you been to Karaoke Thursdays at IceBox Lounge? What was the experience like? Tell us below.
Follow IceBox Lounge on Facebook.