The Western Basketball Association was recently handed some high-performance basketball socks courtesy of the Sandals Foundation- the philanthropic arm of the Sandals Resorts International- during the Elite Basketball League at the Montego Bay Sports Complex.
The initiative which falls under the "Game Changer Programme" was launched last year and is spearheaded by the Sandals Foundation in collaboration with the Canadian based company, PTX Performance Products Inc. who is a leader in the design and manufacturing of these "Stable 26" basketball socks that have been distributed to sports teams across Jamaica, St. Lucia, Grenada, Barbados and Turk and Caicos.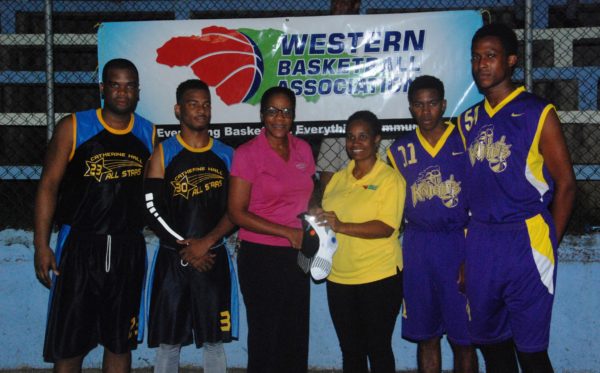 According to Khadine Daley, Regional Public Relations Manager for Sandals Resorts (Montego Bay region), this donation to the WBA will enable over 100 players to feel comfortable and protected during their sporting events as these socks provide multi-direction stability and targeted cushioning to optimize court performance.
She went on to say that through the foundation's commitment to developing communities and creating opportunities for youth's, the offering of assistance was granted without hesitation.
Kurt Comrie, WBA representative noted that youths from as early as 10 years from the low income communities of Norwood, Cornwall Courts, Glendevon, Granville and more, use these basketball tournaments as a vehicle of personal and professional development and therefore emphasized his gratitude on behalf of the association to the foundation as it will work to prevent injuries that could hinder the future prospects of sportsmen and women