With a click to open the door of the BMW luxury transfer, UK resident Terry Nickless vaulted into the exalted territory as the first guest in the 38-year history of Sandals Resorts to achieve the milestone of racking up 1000 night staying at the world's leading all-inclusive.
From a wide-eyed look, mouth opened in astonishment and finally the trademark broad smile, the former stonemason was overcome with emotion, as after being met and escorted from the flight into Montego Bay and fast-tracked through customs and immigration by Don Smith, Sandals VP, Transportation & Airport Operations; and joined by Sandals Royal Caribbean's General Manager Gerald Christ, he was greeted in celebrity fashion at the resort by Deputy Chairman Adam Stewart, Chief Executive Officer Gebhard Rainer, all the general managers in the Sandals chain, as well as scores of team members.
Nickless achieved his 1,000th night stay the week of April 22, to become the first member of the Sandals Select Rewards programme to reach this level.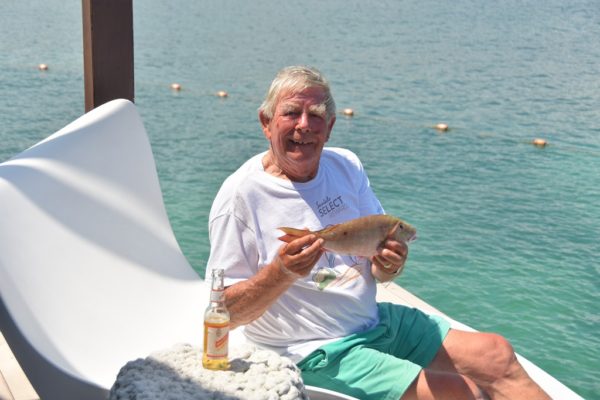 "This is such a big surprise…I really never expected this, but thank you Sandals," said Nickless. overcome with emotions and choking back the tears welling in his eyes, since he had no indication of the lavish welcome and celebrations planned on his behalf.
During the ensuing two weeks, he has been feted in fine style at Sandals Royal Caribbean, his home-away-from-home, as well as at Beaches Negril, before being special guest at the Sandals Select Reunion Week celebrations which ended on Sunday, where he was the toast of the events. He also received lavish special rewards and gifts at the Gala Dinner at Sandals Royal Caribbean to mark the occasion.
Sandals Reunion Week is an annual special week of activities, ranging from dinners, parties, off property excursions and general fun and games, for returning guests and gives them the chance to catch up with friends they have made over the years mainly at Sandals Resorts.
One of his most treasured reward was a stay at the resort's Maldivian style Over-the-water bungalows, a haven for celebrities and the most luxurious accommodations Sandals has to offer, where he was pampered in style by the team of The Guild of Professional English trained butlers.
Nickless, who hails from Surrey in England, said he was honoured to celebrate his achievement at Sandals Royal Caribbean, which he considered his second home and that while he enjoyed the special events in his honour, he was happy to spend time simply enjoying his favourite pastime of fishing with a local friend whom he has known for the past 32 years.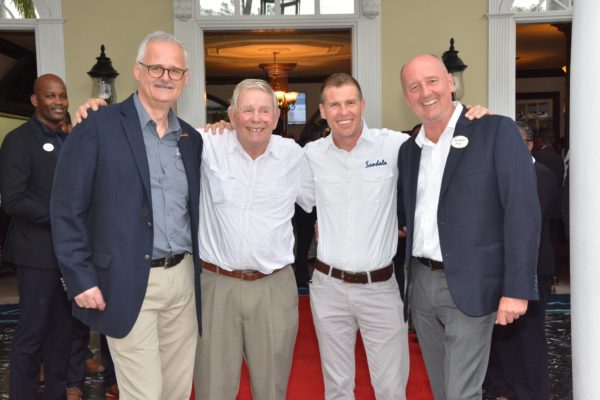 A favourite with the team members of the resort, many of whom he knows by name, Nickless' storied journey began in 1987 when he, along with late wife Anne, first stepped foot at Sandals Royal Caribbean, fell in love with the resort and its workers and continued returning at least once every year after – including oftentimes staying in the exact same room. Even after her passing, he still makes his annual trek to Jamaica.
His is truly a love affair with Sandals Royal Caribbean and Jamaica. According to Nickless, his wife was enamoured from the first time they set foot on the property and since that time Sandals has become his sanctuary. In fact, their holidays ware limited to the resort chain as their sole choice for vacations. The miles have steadily racked up and finally, Terry cracked the 1000 night barrier.
Nickless points to the relationships he and his wife made over the years and the warmth and friendliness of the staff at the hotel, that made it such a special place for them. And even now that she has passed, his annual visits are something he most looks forward to.
Sandals Resorts International's Deputy Chairman, Adam Stewart, commented: "Terry is like family to us. Everyone at the resort knows his name and it's always a pleasure to see him back here. It's only right that we celebrate Terry's unwavering loyalty to Sandals and recognize his incredible achievement during his stay with us."
With more than 800,000 members worldwide the Sandals Select programme was revamped in 2017 to increase the number of tiers and benefits allowed to its members, including the tier of highest and most exclusive Ambassadors Club, to which Terry and a select 50 over guests are members.