Negril, Westmoreland: "What is a pretty girl like you doing in this field?"
That is the question that Shanice Henry gets asked every time someone sees her for the first time in her work clothes.
Henry, 20, can be seen sporting her oxford shirt, Dickies pants and boots. She is usually armed with a tool kit and clip board on which she carries her work sheet.
Call her the rose among the thorns as she is the lone female working in the Maintenance department at Beaches Negril where she is a room technician.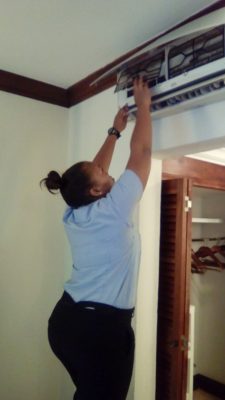 "As a room technician, I get to do a little of everything. I work on the air conditioners, I do a little plumbing, carpentry and some electrical work as well," Henry said.
Henry has always had her eyes on this field and is not deterred by the fact that it is said to be a man's world.
In fact, if you ask her, she will tell you that she is living her dreams.
"In high school I chose Building Technology as my skill because that is what I was passionate about. I went on to do those subjects at the CSEC level and from there I went to a HEART institution in Seaforth Town where I studied General Construction," she explained.
After receiving her level three General Construction Certificate she enrolled in the Hospitality Training Programme at Beaches Negril which lasted for six weeks. Upon completion, she was called back to work in her current role.
Even though Henry has been in her role for a while, she cannot seem to evade the constant stares and dropping jaws.
"There are times when I will go to check a room and when I walk in and the housekeeper sees me, they will look at me as though they are not sure I can give the room a proper check. But when I'm through they always realize that I am actually pretty good at what I do," she said confidently.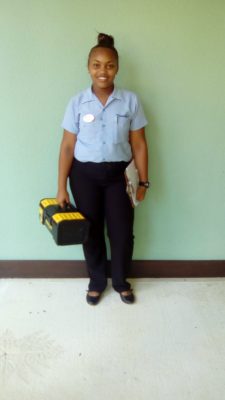 "If I have to climb, I climb. Whatever is expected of me as a room technician, I do it to the best of my ability. I do not think that because I'm a female, I should be given preferential treatment. This is the path I chose," she said.
Henry believes she is just as good as her male counterparts but admitted that she did learn a great deal from them.
"There have been times when I've had a few doubts and the men have had to remind me that they know I can do it because they taught me exactly how to do it," she said.
Henry is hoping to grow in her profession and believes it would be a tremendous accomplishment to be named the first female chief engineer within the Sandals brand.
Her manager, Wilbert Harding does not think her dream is impossible.
"Shanice is an efficient worker and I have no doubt that she will grow in this company. I am confident that she can achieve whatever she has her eyes set on because as the only female on my team of technicians, she does not back down or shy away from her assignments," Harding said.
Henry's life seems to be one of unending surprises because outside of work, she is what one would call a "girlie girl".
"Whenever I get dressed up in heels and dresses people are always surprised. They did not know I had that side to me," she said jokingly.