November 2, 2017–It is often said that we should work hard in silence and let our success make the noise, but earlier this year on the night of May 19, as Sandals South Coast celebrated its top achievers, Sareika's hard work would no longer be silenced.
Sareika Jamieson, the former club sandals agent, who was recently promoted to front office supervisor, was declared Diamond Team Member of the Year for Sandals South Coast.
Growing up in the small village of Whitehouse, Westmoreland the options for career advancement were fairly limited for Sareika, despite her having seven CXCs and a Level 2 Heart Trust Certification. That is of course until a friend introduced her to Sandals.
Sareika joined the Sandals family in 2012 in much the same way as many of the resort's shining stars; through the Hospitality Training Programme (HTP).
"If you asked me at that point in 2012 what was my vision for my career I would have had no idea", said Sareika."I was just super excited for what may have been my best chance of joining the Sandals team. Prior to joining Sandals, I worked as a cashier at a local restaurant in Whitehouse."
Immediately following her HTP six-week training, Sareika was hired as a Club Sandals Concierge Agent.
"At the time, I could not have asked for a better position at Sandals," said Sareika.
Concierge agents at Sandals Resorts cater to the needs of the resort's exclusive Club Level Guests.
"Being a concierge agent allowed me to work closely with the other departments in order to create the best possible vacation experience for my guests," said Sareika.
As the first line of information for Club Level guests, the concierge agent has to be well informed about the resort's various operations from watersports activities and schedules and the restaurant menus and opening and closing times to Island Routes® excursions, special add-ons, and housekeeping services.
"I care about people and about making them happy, so I knew this position was perfect for me," said Sareika.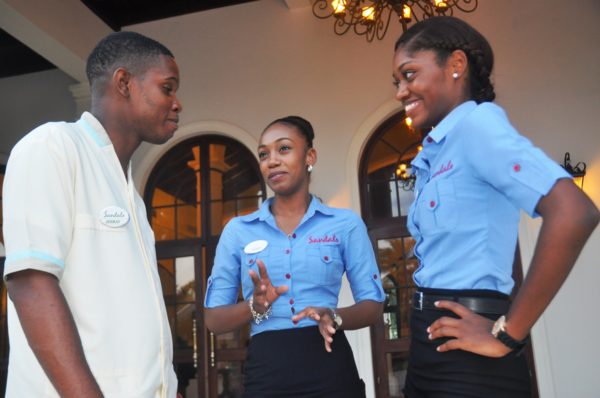 But not everyone thought Sareika was perfect for the position. Despite the fact that she, followed through well on her tasks and was eager to learn and improve, Sareika's detractors only saw the soft-spoken, quiet, petite HTP who first walked through the doors of Sandals South Coast.
"People would often say Sareika can't or Sareika won't. I had to work even harder to prove my abilities and that I am serious about everything that I do," said Sareika. "Looking back now, those experiences have strengthened me for what is to come, and allowed me to tune out the doubters and use the constructive criticisms for my own development."
Club Sandals Manager, Ava Gardner, remembers Sareika when she first ventured out as the 'quiet little shy girl' in the department.
"I would normally say to Sareika 'speak up and do not race your words because I am not hearing you', then Sareika would say 'you are not hearing me'  in not much of a higher tone," Ava reminisces fondly.
"Sareika would have to roleplay multiple orientations for myself and the team prior to doing so for the guest as she often struggled with adjusting her pitch for an audience."
Ava concurs that what makes Sareika so successful is her determination to make a difference and be a top performer and her receptiveness to constructive criticism which has only made her stronger.
Today, as the Front Office Supervisor at Sandals South Coast, Sareika's responsibilities have expanded from guest services to monitoring systems and the reporting aspects of her department while focusing on motivating the young impressionable minds within the resort's front office and bell desk.
"Sometimes I look at the new hires and HTPs in my department and I see the shy, soft-spoken HTP that I was five years ago and I smile," says Sareika.  "I guess in some ways things are coming full circle."
Sareika, who is currently enrolled in an online Advanced Hospitality Management Programme, says she hopes to one day manage her own front office or concierge team.
As she continues to move from strength to strength, she takes with her the values that she learned from her parents – to always work hard and do whatever she is doing to the best of her ability.
As the Front Office Supervisor and Diamond Team Member of the Year for the luxury-included Sandals South Coast, Sareika has come a long way from the cash register at Ruby's restaurant in the small fishing village of Whitehouse and if you should ask her what drives her success, she would share two things; passion and determination.