SANDALS SOUTH COAST LAUNCHES REEF AND FOREST KEEPERS PROGRAMME
Whitehouse, Westmoreland – February 8, 2018 –A new dimension was added to the educational process for students at the Black River and Ferris Primary schools recently as Sandals South Coast officially launched it's Reef and Forest Keeper's Programme to coincide with World Wetlands Day observances.
The Reef and Forest Keepers Programme will explore the terrestrial and marine ecosystems of Jamaica and how our daily practices can impact the environment.
Christine O'Sullivan, a lecturer in the Environmental Sciences Division at the University of Technology, and has been intimately involved with this programme which is several years in the making, addressed the gathering at the launch event on February 2nd.
Pledging her continued support, O'Sullivan noted that the inclusion of both terrestrial and marine components in Sandals South Coast's Reef and Forest Keeper's Programme is extremely important. "What we do on land can have great impacts on coastal ecosystems," she noted, "therefore teaching children about the importance of terrestrial and aquatic ecosystems will give them a greater appreciation of both."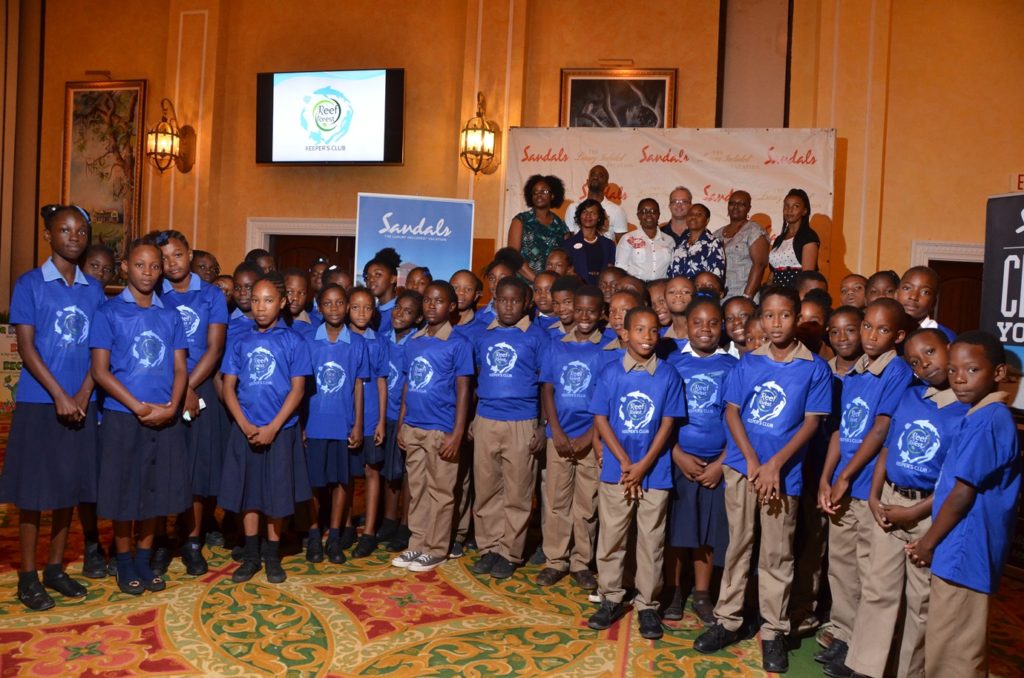 She further noted that children who appreciate the environment will grow up to become better stewards of our natural resources.
Scheduled to run from February to July, the programme will engage students through a series of environmentally-focused class sessions, excursions, workshops and challenge projects.
When asked why the resort decided to embark on the Reef and Forest Keeper's initiative, resort Environment, Health, and Safety Manager, Vilma Smith noted that Sandals Resorts International (SRI) is always seeking ways to develop on its environmental best practices and continuously support efforts towards environmental protection.
"Creating a sustainable programme towards the preservation of our natural environment is simply an extension of that. One which must involve the larger community and in particular our children if it is to be successful."
Smith noted that any investment in developing environmental interests in our children from an early age is never wasted as they are our number one safeguard for the future.
She also applauded the efforts and accomplishments of existing programmes such as the Jamaica Environment Trust's School Environment Programme (SEP). "
Through the Reef and Forest Keeper's Programme, Sandals South Coast is hoping to add not only its voice but its muscle to the cause as together we aim to turn the tide on issues of deforestation, improper waste disposal, and environmental pollution."
To increase the programme's impact, Sandals South Coast has enlisted the support of several like-minded partners to play integral roles in its execution. Among these partners are the National Environment and Planning Agency (NEPA), the Forestry Department, the University of Technology, Jamaica's (UTECH, Ja) Environmental Sciences Division in the Faculty of Science and Sports, the National Solid Waste Management Authority (NSWMA), the Sandals Foundation and the Fisherman's Friendly Society of Gillings Gully, Bluefields Bay and Gallion Bay as well as other local partners from Bee farmers to Marine Wardens.
These partners, which were each represented at the programme's launch, praised the initiative.
Chalene Roye-Myrie, Co-ordinator of Beaches in the Ecosystems Management Branch of NEPA couldn't agree more. Myrie, who was on hand at the launch to bring greetings on behalf of NEPA and make a presentation on Wetlands, noted that NEPA's vision of managing Jamaica's natural resources in a sustainable way with participation amongst citizens is augmented with programmes such as the Reef and Forest Keepers Programme which targets the younger generation.
"This allows for a broader understanding of environmental issues and a change in perception and behaviour," she said.
Programmes such as SEP and now Sandals South Coast Reef and Forest Keeper's Programme will provide an additional outlet to engage students in a meaningful way while helping to promulgate the important message of environmental stewardship and the need to take action now to correct the environmental ills that continue to plague Jamaica land we love.