In less than a week, philanthropist, Sandals team member and Sandals Foundation Ambassador, Johuan Shaw worked alongside his colleagues in raising over JA$200,000.00 which will go towards building education and preparing students across the island for the new school term.
Through distributing pamphlets, having one on one discussions and impromptu presentations, Johuan Shaw managed to influence valued guests who vacationed to Sandals Royal Caribbean to make a donation with the hope of changing a child's life.
According to Shaw, growing up, he would sometimes have to persist without having proper learning materials and uniform for school. Therefore, this "Back to School Fundraiser" was something that he considered obligatory.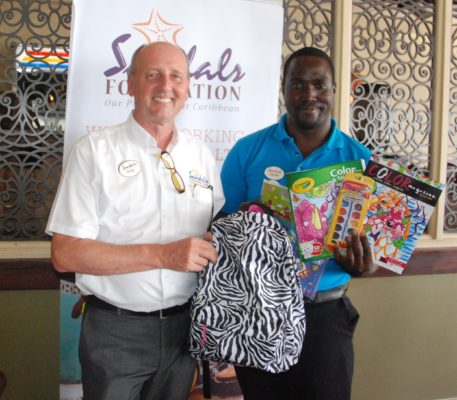 As a token of appreciation, the resort's general manager, Gerald Christ (left) presented Shaw with a backpack filled with school supplies from crayons, pencils, highlighter, rulers, paint sets, glue, notebooks, erasers and more at the general staff meeting held last Thursday. Shaw who gladly accepted this gift noted that the prize will not only benefit his family but will be shared amongst his colleagues who also took up the charge to assist with the fundraising initiative.
The humanitarian has committed to continuing his efforts until the month's end and looks forward to spearheading future initiatives through the Sandals Foundation.