Some 10 million listeners across the United States of America tuned in to their favourite disc jockeys (DJs) promoting Jamaica and Sandals Resorts last week as Sandals Negril hosted 18 top US radio shows reaching a total of 20 key markets in the country.
From September 29 to October 6, radio DJs traded in their studios for a breathtaking beachside live radio broadcast on the best stretch of Negril's famous seven-mile beach. The event, spearheaded by Sandals Resorts with sponsorship from the Jamaica Tourist Board offered the opportunity to Sandals Negril team members and managers to speak about what makes the region and resort the perfect destination. JTB executives also marketed brand Jamaica during live one-on-one interviews with each radio host.
Not only were listeners treated to the energetic and convincing voices of the resort and JTB representatives but many got the chance to witness all the fun activities and relaxing moments their DJs had through hundreds of social media posts on their personal and company pages.
"I couldn't be more thrilled with our Sandals visit. Impeccable luxury, thrilling entertainment, and relaxation with a splash of Caribbean hospitality is the recipe for a perfect getaway," shared DJ David 'Deuce' Jacobson representing KPTT-FM in Denver and KXJM-FM in Portland with a combined reach of close to 900 thousand listeners.
Vincent Moses, from WFTK-FM out of Cincinnati had similar views as well. "Sandals Negril was unbelievable! The way the resort is laid out, you are never more than just a few steps from the beach. I definitely have no reservations in recommending Sandals Negril to family and friends."
Through the JTB, the radio DJs were taken on an adventure packed day of zip lining, ATV, safari tours and horseback riding at Jamwest Motorsports and Adventure Park. DJs also stopped at the famed Rick's Café to enjoy the beautiful cliff views.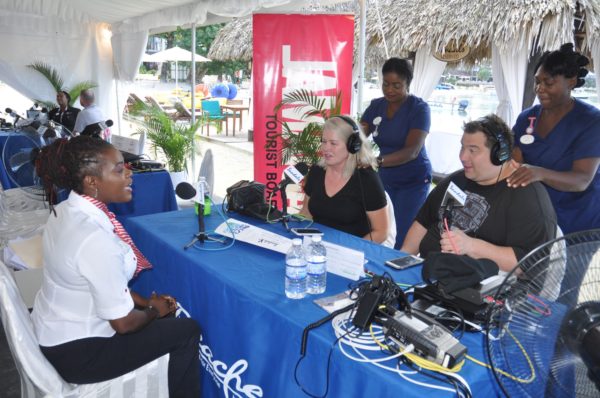 This promotion has not only highlighted the luxury-included amenities of Sandals Resorts but also promoted Jamaica as a top travel destination to audiences.  According to David Latchimy, general manager for Sandals Negril, "This radio remote was a fantastic opportunity to sell brand Jamaica and brand Sandals to our largest visitor location which is North America. During the visit, our DJs got to explore a lot of what we offer at Sandals Negril and were able to speak organically about their experience. This came at the ideal time as many of our vacationers are researching the best vacation spot to visit during the winter season. Jamaica is a prime location and Sandals is poised and ready to give them the luxury-included getaway that they are looking for."
In addition to listening to and viewing all the luxury-included®  amenities at Sandals resorts and all that Jamaica has to offer to eager tourists, listeners had exclusive chances to win their very own 4-day/3-night stay to any Sandals Resorts with roundtrip airfare from official airline sponsor, American Airlines.