Logwood Basic School in Hanover is five bathrooms bigger and now completely compliant where the Early Childhood Commission's (ECC) sanitation standard is concerned after the institution received a brand new bathroom facility through the Sandals Foundation.
It was easy to tell that the students were overjoyed upon seeing the completion of the bathrooms. They could hardly wait for the ribbon to be cut so they could make their way inside to peruse the pristine area when volunteers from Sandals, Beaches, and Grand Pineapple Negril did the symbolic handover recently.
The structure which comprises of two male bathrooms, two female bathrooms and a bathroom for the teachers was gifted to the institution through the Sandals Foundation's annual Team Member Support Project. Through the initiative, the Sandals Foundation invites employees at each of the 26 Sandals and Beaches properties across the Caribbean to advocate for projects in their communities worthy of receiving funding.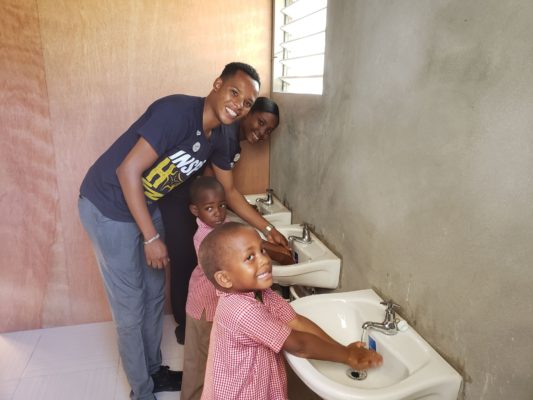 When Human Resources Coordinator at Beaches Negril, Laceia Smith submitted information on the Hanover based institution to the Sandals Foundation, they recognized the need and committed to funding $315,000 to the project
"I am originally from that area and my son goes to that school. I know the quality of the teaching they deliver. The school is really a beacon in the community and produces some brilliant and talented students but they were in great need of additional bathrooms but were unable to do it on their own. So when I learned of the team member support project, I knew I had to take advantage of what was an absolutely awesome and rewarding opportunity," Smith shared.
It is undoubtedly a rewarding initiative according to Mrs Joyce Smith, Principal at Logwood ECI. Smith expressed that the Sandals Foundation's assistance was very relevant and timely.
"Based on the sanitation requirements of the ECC, we really needed the bathrooms. So now we are extremely elated to say the least that the Sandals Foundation stepped in and helped us and now we are at 100 percent compliance," she shared.
She added that the students are celebrating the convenience that the facility has brought.
"Before we had the bathrooms, students had to wait in long lines in order to use the bathrooms that we had at the time. They also had to walk far to get to the bathrooms and now they have it closer to them so they are happy and we are happy too," she concluded.
The school's development officer, the chairman and the board are all applauding the Sandals Foundation for the worthwhile initiative.