Sandals Montego Bay launch the "Flagship Innovators" programme
At Sandals Montego Bay, approximately 20 young dynamic team members comprising of line staff, supervisors and assistant managers, are on a game-changing mission as they make their contribution to the development of not just the Sandals flagship resort but entire company as a whole.  They call themselves the "Flagship Innovators."
It is no surprise then that youngsters aspiring to work in the hospitality industry would have their eyes set on a company that provides career opportunities that will allow them to flourish.  Sandals Resorts certainly wears the hat well as they have been recognized as a preferred employer amongst the target group. With the rapid expansion of Sandals Resorts, there is a consistent willingness to raise the bar and be ahead of the competition in pursuit of continued success.  With this success comes succession planning which includes developing young leaders to take charge and forge new paths for the future.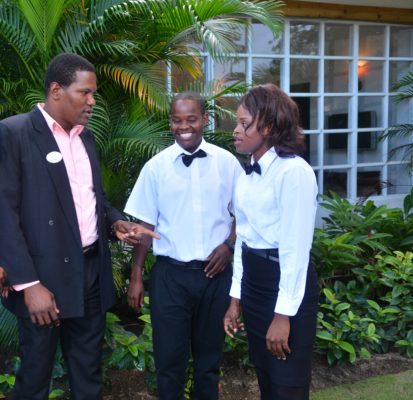 The Flagship Innovators are recent graduates of the Sandals Corporate University were they received professional certification in core courses to include:- the art of selling, customer service, professional communications and professional leadership. Through the innovators programme team members will have the ability to teach, inspire and empower other employees, which will result in increased engagement and productivity.
The flagship innovators is a direct result of Sandals Montego Bay's continued revolution, a drive that began in 2015.  While infrastructural change is a priority, the human resources remain paramount in order to consistently improve on the service levels being offered at Sandals.   With 36 years of success, the resort is now poised for future achievements, with one strategic measure being its continued investment in its human capital as preparation for the road ahead.
President of the Flagship Innovators club, Oshayne Lawrence and open water scuba instructor expressed, "I find I am holding  myself more accountable for my own performance  at work as I am more engaged and empowered. I am also excited about setting an example by not just sharing ideas but putting it into action with the support of the management team."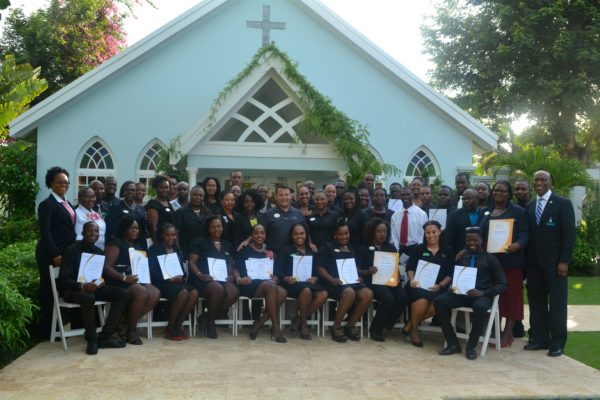 Training and development manager, Sigourney Hastings noted, "at Sandals Montego Bay, we are truly concerned about creating an environment for developing effective leaders who are ready to function in a new age within the travel industry. The leadership training programme has a slightly different approach and a broader focus on how we prepare our youngsters to take on major roles. The goal is developing more well-rounded employees who can be productive and interact well with others in an ever-changing environment. Other areas of development become equally as important as having a solid technical or functional skill set."
Sandals Montego continues to strategize on how to become more competitive, productive and efficient. Human Resource manager, Herbert Richards concurred and noted, "we are always looking to hire quality talent who can help with those efforts. Having effective leaders who can energize and motivate others to work together to achieve common goals is essential for the overall and continued success at Sandals Montego Bay."
"The Flagship Innovators mission is to continuously develop ourselves and others by striving towards greatness through training and development, involving ourselves in community outreach projects and practicing good environmental habits; to be true standard bearers of tomorrow."