Over 300 staff members of the Savanna-la-Mar Hospital were recently treated to special lunches by Sandals and Beaches resorts in Negril as a show of solidarity and support as the local hospital system and frontline workers continue to grapple with the ongoing effects of the pandemic.
With recent reports of patient occupancy being at full capacity in many of our nation's hospitals, front-line workers have been working overtime and under high-stress conditions to deal with the spike in COVID-19 cases.
The Savanna-la-Mar Hospital is no exception and according to the Western Regional Health Authority, the situation at the facility has reached "crisis proportion".  The efforts of the Sandals and Beaches Negril team mirror similar activities recently undertaken at the Black River, Ocho Rios, and Montego Bay-based health care facilities. Donations of supplies to include bed linens, towels, and chairs for patient use was also made.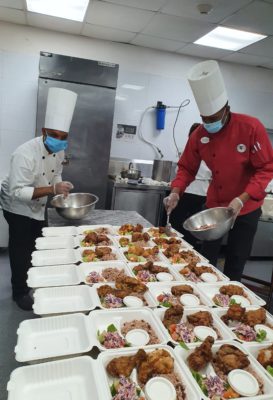 "As a group, we continue to play our part in combating this virus. The team at Savanna-la-Mar Hospital has provided great care to many of our employees and community members and it really is a tough time for all the workers there. Through our Executive Chairman, Adam Stewart, this is just one way of saying, we are in this together and we continue to support you," shared General Managers from Sandals Negril and Beaches Negril David Latchimy and Christopher Elliot.
Manager at the Accident and Emergency Ward Patma Williams expressed her thanks to Sandals and Beaches Negril for the kind gesture to her and her colleagues, "We are thankful to Sandals and Beaches Negril for the gifts extended and we appreciate their support and kind words. God has called us to be destiny helpers and problem solvers and we continue to do our best every day."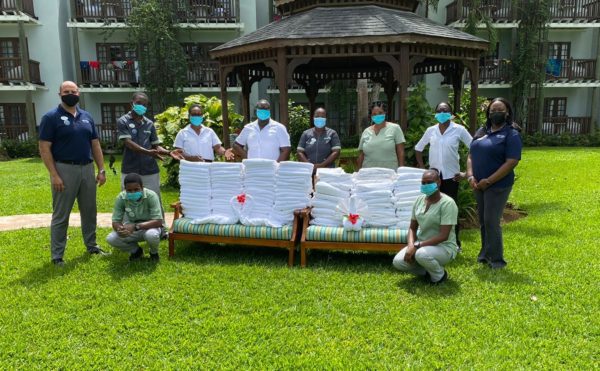 This latest activity represents a part of the resort company's ongoing support to healthcare facilities and frontline workers in the country's collective efforts to combat the effects of this pandemic.  The company's Sandals Inn resort in Montego Bay continues to be fully utilized by the Ministry of Health since March 2020, amidst company donations through several Private Sector Organization of Jamaica initiatives and earlier this year, a donation of complimentary stays was extended to frontline workers across the region.
The hotel chain's philanthropic arm, Sandals Foundation, also remains active in providing additional extensive support and is also exploring further assistance to the Savanna-la-Mar Hospital and others.