When Romaine Meggo, a front desk agent at Grand Pineapple Negril visited Sandals Negril in 2015, he had no idea that it would soon become his full-time stomping ground. He also didn't envision being named the Diamond Team Member after working at the revered resort for a mere 12 months.
The 24-year old is a past student of The Manning's School in Westmoreland and hails from Truro in the said parish. Success is not new to him as in his community, Meggo is one who every mother's son strives to be like and every mother's daughter hopes to introduce to her family.
Let's rewind.
From a tender age, great things were expected of him. In high school, he was a footballer who managed to successfully pass all his exams, a tussle for most boys who were actively involved in sports.
He started out at Sandals Negril in the Hospitality Training Programme in 2014, fervently trying to garner knowledge of the bar operations, but that stint was not too successful.
"That did not go too well and I got derailed somewhat," he explained.
But that didn't stop him. "My journey later took me to Grand Pineapple Negril in 2015. There I found an extended family. I was loved and I have so much love for the team members there as well," he stated.
But there was one feeling that Meggo could not seem to shake.
"I just felt I had unfinished business at Sandals Negril and I just had to go back to get things done," he said.
"So I stopped by the resort one evening to visit my former trainer and to take another look at the place I hoped to work again," Meggo added.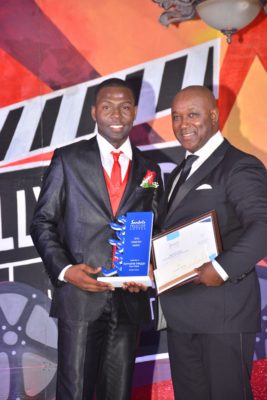 That day when Meggo entered the property, a wall at the entrance sparked a fire in him. It was the Wall of Fame, displaying images of outstanding team members and the awards they won.
"It was at that moment that I told myself I wanted my picture on that wall," he recalled.
Then, one day in mid-December 2015, his dream became reality when he was recommended to fill a vacant position at Sandals Negril as a front office agent.
"As I walked through the entrance on my first day I made a commitment to myself to work very hard, not only to be on that Wall of Fame but because I wanted to be the best version of myself," Meggo stated.
Now fast forward to 2017.
His hard work certainly paid off as he has won 12 awards and his image is boldly represented on the wall as Sandals Negril's Diamond Team Member of the Year for 2016.
General Manager for Sandals Negril, David Latchimy, added credence to Meggo's commendable work ethic, "Romaine is an example among his peers. He is way ahead of his time. His eye for detail and his zeal to get things done properly is admirable. I've watched him working and handling guest issues and I am impressed every single time. He is everything that this awesome brand represents," Latchimy stated.
Meggo, who is now reading for his Bachelor's Degree in Management Studies, says in the next five years, he will become the youngest general manager within the brand.
One would say that this is quite the ambition but from what we know of this young man, his ambitions should never be taken lightly.