In keeping with one of its core mandate to preserve the environment, Sandals Montego Bay recently hosted a recycle wear competition which allowed team members to express their commitment to the environment through fashion and creativity. The recycle competition was part of The Miss Flagship 2018 pageant which focused on personal development, poise and environmental awareness of female team members of Sandals Montego Bay.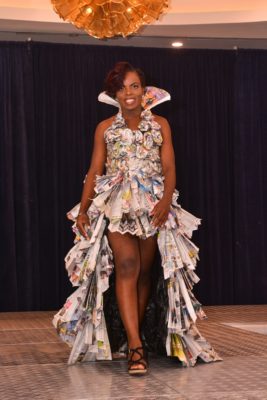 "Instead of asking our contestants to model swimwear, we asked them to personally design and model their own outfit made from recycled materials. As a group we have always shown care for the natural environment and we are always finding ways to remind our team members and communities around us, that Sandals takes this stewardship seriously," said Learning & Development Manager Sigourney Hasting, one of the organizers of the Miss Flagship 2018 pageant.
The recycle wear competition turned out to be one of the highlights of the pageant as contestants exceeded expectations with a sensational array of creations, ranging from plastic cups, straws, newspapers and garbage bags. In the end it was Trishanna Coleman, a playmaker in the Entertainment Department who copped the top prize for best recycle wear. She stunned the audience with her elaborate gown made from discarded CDs, computer key-board, plastic cups and garbage bags. Second place went to Jessica Riley from the resort's red lane Spa who designed a cocktail outfit from plastic bottles, caps and cups.
Sandals Montego Bay's Environmental, Health and Safety manager Haniff Richards said the elaborate designs created by the contestants did more than entertain those in attendance.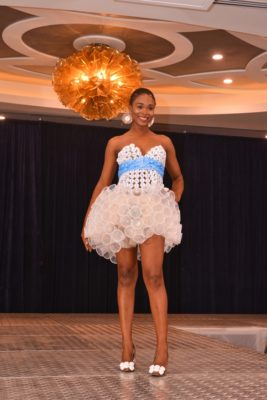 "What we did with the recycle wear competition was to draw attention to the vital issue of pollution that has become a global phenomenon.  We may not all be able to design clothes from recycled materials but we wanted to make a bold statement about reusing materials that have already been utilized for their original purposes," Richards explained. He added that the recycle competition was part of a broader environmental outreach programme to which all Sandals Resorts are committed.
"Through our Sandals Foundation and our Environmental, Health & Safety offices, our team members conduct beach clean-up activities, tree planting exercises and bring environmental awareness to schools with presentations and activities. We don't just focus on educating ourselves but those around us as well," Richard said.
Like all Sandals and Beaches resorts across the Caribbean, Sandals Montego Bay is audited yearly by EarthCheck, the world's leading scientific benchmarking, certification and advisory group for travel and tourism. Recently the resort received a Master Platinum certification, marking 15 years of continued adherence to sustainable environmental best practices.