Imagine tragically losing the sole breadwinner in the family while in the advanced stage of one's pregnancy; then having to make ends meet while working a seasonal job in the cane fields of Westmoreland. Princess Ennis only saw darkness on the horizon.
Life seemed more difficult with each passing day for the mother of four. Then came her breakthrough, when her younger sibling told her about the Hospitality Training Programme (HTP) that Sandals Resorts, offered to unattached youths. This was Ennis' first steps through the gates of Sandals Negril and she has never looked back since.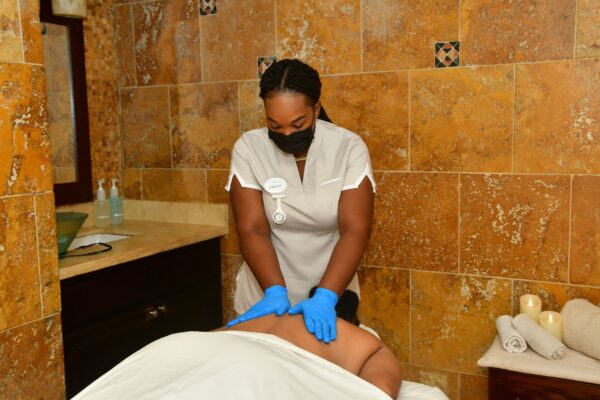 "Six years ago, my younger sister wrote and submitted my application letter for an opportunity to join the HTP cohort in the housekeeping department at Sandals Negril. With the help and motivation of many colleagues, I have successfully transitioned into being a massage therapist at the resort's Red Lane ® Spa," Ennis beamed.
Joining the Sandals family for Ennis was more than what she ever hoped for or anticipated. "Midway through the HTP interview with General Manager David Latchimy, the interaction got me comfortable enough to share with him my hopes to one day be as passionate and successful as him," Ennis added.
Following the six-week HTP stint, she was successful in obtaining full-time employment as a housekeeper.
"As a member of the Sandals team, you are motivated to elevate yourself and your career with every passing day. There is never a moment where the various team leaders will allow you to rest on your potential. I am a true testament," Ennis remarked.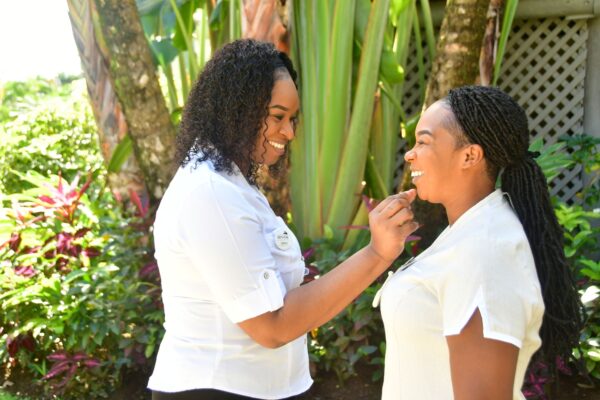 While working in the housekeeping department, Ennis remained committed to each assigned task. Her dream of growing within the organisation was always at the forefront of her mind, and with the constant motivation from family, her dream for growth never faded. Faced with a period of financial difficulty, Ennis fought tooth and nail to be certified as a massage therapist, the first step to becoming an elite member of the Red Lane ® Spa team at Sandals.
"Being encouraged by my former housekeeping manager to seek a transfer to the spa was the most intimidating experience for me. My sister who works with Island Routes and is assigned at Sandals Negril started walking with me to the actual spa location one fateful day and then she stopped half-way and prodded me along to take the leap of faith. The reception that I received when I entered the spa was the most welcoming ever, but I was still terrified of stepping out into the unknown," added Ennis.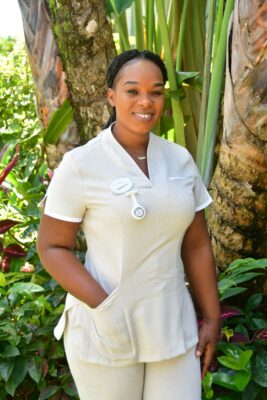 In sharing her Sandals Negril journey, the most shocking period of her tenure came at passing of her father. At the funeral, seeing the general manager present to offer support was one of the most impactful periods of her life.
"Sandals management team is simply amazing. The general manager is always motivating me to become the best version of myself. For the top management of an international hotel brand like Sandals to find time to motivate a line staff, shows that Sandals cares more about the people they have on their team as opposed to just simply getting the work done," Ennis went on.
An ardent saver, Ennis boasts of the myriad of opportunities that she has experienced while being a team member with the hotel.
"While working in the cane fields of Westmoreland, I oftentimes got involved in partners (informal saving activity) that helped me in building a house for my children and me. Now with the Sandals savings options available, I am assured of a safer and more consistent way of saving to help in creating a better life for my children. Being able to go to a financial institution with a job letter from Sandals, it is almost certainty that I would be able to get approval for whatever I am requesting. Sandals' name is good," she shared with conviction.
The admiration for the Sandals culture kept oozing as Princess highlighted the immersive training she underwent prior to joining the Red Lane® Spa. "Following my certification in Massage Therapy, I had to learn the Sandals way; I had to be properly 'Sandalized', so constant training was a must."
"My first ever massage service gave me raving reviews in person and online. Following this nerve-wracking experience, every other time that I provide service for a guest, I consider myself always representing the Sandals standard, which is a cut above the rest."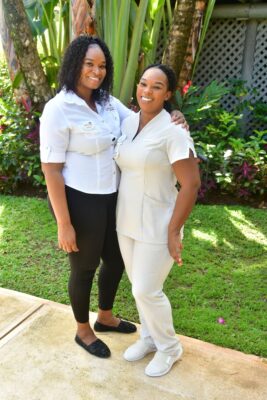 While allowing herself to share freely her journey through life, the 37 year-old massage therapist never fails to pay homage to her children, her younger sister and all those who supported her along the way.
Mentor, sibling and friend of Princess, Serita Ennis was aglow with pride as she talked about her older sibling. "Princess is the epitome of a phenomenal woman. It doesn't matter the challenge that she may have in front of her, that willpower to always overcome is her trademark. The partnership that she has formed with Sandals will only get better for her and her family as being a member of the Sandals team, upward mobility is the only direction for every worker," Serita shared.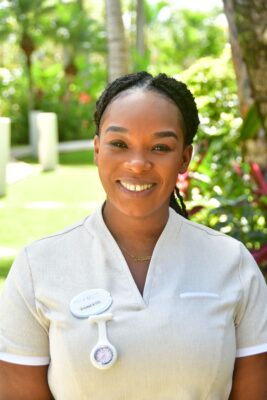 Princess had a final gem to share having overcome many of life's obstacles. She shared, "for those who may think that because they have faced challenges in the past and are fearful of stepping out, my advice would be, just rise each time you fall and never ever give up on yourself. Find that determination and willpower to excel beyond the normal and know that even in the best of us, there will be flaws and scars, these are true testaments of your grit and fortitude."