Transformational trainer/facilitator, performing arts specialist, poet/writer and life
coach Fabian Thomas will host the launch of his first self-published
book, New Thought, New Words: a collection of gratitude verses,
affirmations and spoken word in the Neville Hall Lecture Theatre (N1), at the
University of the West Indies on Monday, July 16th at 6:30 p.m.
New Thought, New Words is an engaging exploration of Thomas' commitment to
constantly 'show-up 'as his best self, an exploration from which most can
undoubtedly benefit. As Rev. Sheila McKeithen opines in her opening message:
"This work will not only inspire you to think a 'new thought' about your life and
circumstances, it will give you permission to speak 'new words', and express
'new feelings' about your life and its every possibility. It will encourage you to
'speak over yourself' and to believe in yourself."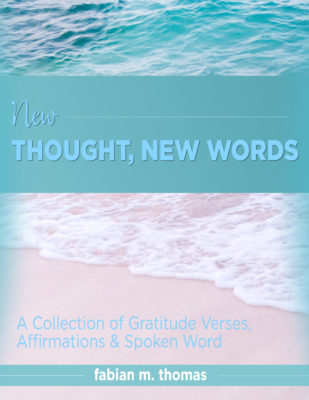 Thomas says a 5-track CD of spoken word items from the book is currently in
production, but may not be ready for the launch: "When the CD is finished folks
will have the option of buying them (the book and CD) together or separately."
For the past 20 years, a forward-thinking Thomas has maintained an unshakeable
commitment to interpersonal training, life coaching and performing arts for social
transformation. He has worked with several individuals, schools and larger
organizations on team building, vision boarding, and personal strategic decision
making under the banner of his brand Sankofa Arts & Facilitation.
His next book project will be the publication of his first manuscript of spoken word
poetry, for which he will soon be seeking a publisher.