Opportunity does knock more than once in a lifetime.
At least, it did for Sandals Montego Bay's scuba instructor Owen Brown. The certified dive instructor recently completed his Master of Science in Accounting on a fully-funded scholarship from the Sandals Corporate University (SCU).
That scholarship granted in 2015, is one of over 755 tertiary grants that the SCU has given team members since its inception in 2012.
But that scholarship wasn't the first one to knock at Brown's door at Sandals. In fact, it was through Sandals that he made his first entry into tertiary studies.
"I did my Associate Degree through a Sandals scholarship. That was way back in 2004, long before there was Sandals Corporate University. They just posted these things on the notice board and anyone who wanted to get higher education could just apply," said Brown who has been with Sandals Montego Bay for the last 20 years.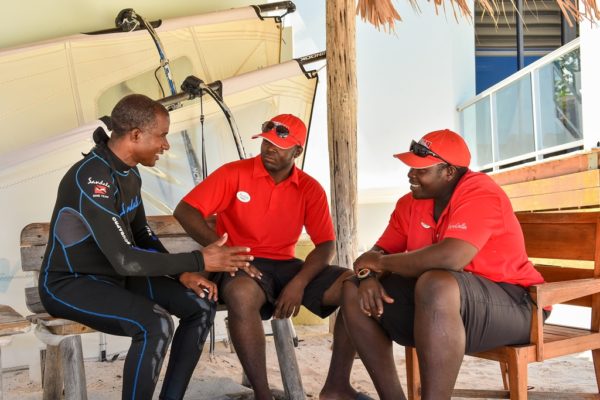 He reminisces on the passion he possessed for higher education when he started at Sandals and how he took calculated steps to benefit from the opportunities offered by the 5-star star luxury-Included® chain.
"I had five CXCs when I started at Sandals and needed only Math to qualify for an Associate Degree in Business. So knowing that Sandals was offering scholarships I did CXC Math and waited for the next scholarship opportunity to be announced," Brown explained.
In 2004 he was granted the scholarship to pursue an Associate Degree in Business Administration and according to him, that's where his appetite for higher-level education really opened.
Using his own funds, he completed a Bachelor's Degree in Business Administration and a post-graduate certificate in teaching. Then he heard the SCU was offering scholarships to pursue Masters Degrees, however, he doubted his chances of getting a second scholarship.
"I had never really heard of one team member getting two scholarships. But the first one I got wasn't through SCU so I believe that's why they granted me a second one in 2015. This time, I was bonded to the company for a few years which I didn't mind because Sandals Montego Bay is like home to me," Brown said with a smile.
But little did he know that pursuing a Master's Degree would be his deepest dive yet.
Challenging journey
"I really advise young people to try and complete their education early. When I started my Masters, I was 49 years old. By then I was a supervisor in the Watersports department and I have a wife and child. Balancing my degree, work and family life was very challenging," Brown expressed.
He recalls waking up early to meet the demands of his job and heading to school immediately after work to attend classes. There was less time to spend with family and friends as he got deeper into his studies.
"Also the programme I was in stipulated that I would be asked to leave if I failed too many courses. My Sandals scholarship also stipulated that I would have to pay for the courses failed," Brown explained.
Another thing that encouraged Brown to stay beneath the surface and complete his dive was his daughter who enrolled in the Bachelor of Medicine programme at UWI the same year he started his Masters.
"I wouldn't have been able to fulfill my dream and hers if I had not got a scholarship from Sandals, so I had to finish my degree," Brown confessed.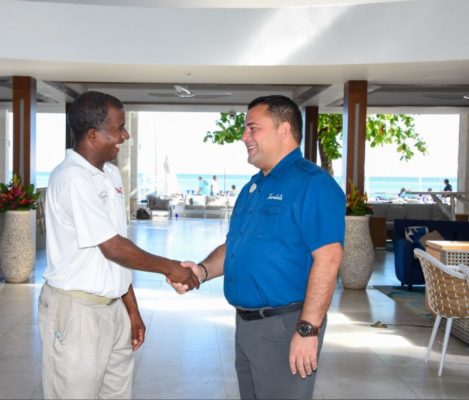 But perhaps the most difficult part of the three-year dive to complete his Master's Degree was the disruption of his sleeping pattern which many university scholars can relate to.
"The doctor said my inability to sleep was because I was thinking hard about completing my studies. My doctor said, 'Owen just press on, you will be proud you did when it's all over'," Brown reminisced.
In 2018, three grueling years later, at the age of 52, Brown finally resurfaced with a Master's Degree in Accounting from the University of The West Indies.
According to Sandals Montego Bay's General Manager Carl Beviere, Brown is a shining example of the hope the company has for all team members.
"Through our Sandals Corporate University, we are not only interested in developing hospitality workers, but we want people to achieve their full potential whatever it is. If you are a bartender who hopes to be a General Manager, we want you to know you can achieve that through the training we offer," Mr. Beviere stated.
As for Brown, he is waiting for an opportunity to make that third knock at his door so he can venture into the field of Accounting.
"I love Watersports but with my Accounting qualifications, I would like to get some experience in that area. The thing is it has to be at Sandals, this company has given so much to me, I wouldn't mind growing with them some more," he said with a smile.