Upscale luncheons, luxury weekend giveaways and a glorious repast of local culinary offerings heralded Teachers' Day celebrations as Sandals Resorts rolled out the red carpet for over 400 of the island's educators to mark the occasion on Wednesday.
"There is no way we can truly thank you for your magnificent efforts in rising to the occasion and educating her youths during this pandemic, so today is just a small token of our appreciation," noted Sandals Montego Bay's General Manager Christopher Elliott as he welcomes 120 teachers at a special luncheon hosted by the Montego Bay region at his resort.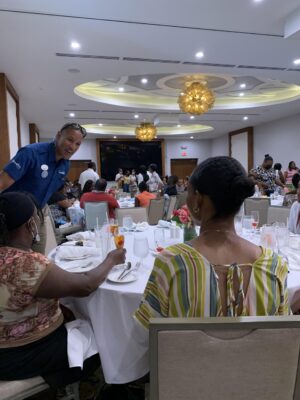 Mr. Elliott, who hails from a family of educators, hailed the teachers as being the backbone of our nation and extolling their virtues, particularly during the past two years during which Covid 19 ravaged the island's educational system.
The teachers at the Sandals Montego Bay Conference Centre were wined and dined in fine style as well as enjoyed entertainment provided by members of the resort's entertainment team and participated in the various events during which they won weekend stays and day passes for Sandals resorts.
"We want to say a big thank you to Sandals for offering us this amazing experience," gushed Nicholas James, principal of Mount Hannah Primary, who delivered the vote of thanks on behalf of the teachers in attendance. "The fact that you have shown your appreciation for our efforts so royally will help motivate us as we head back into the classroom. You have no idea how much we appreciate coming to your resort and being feted in this fine manner."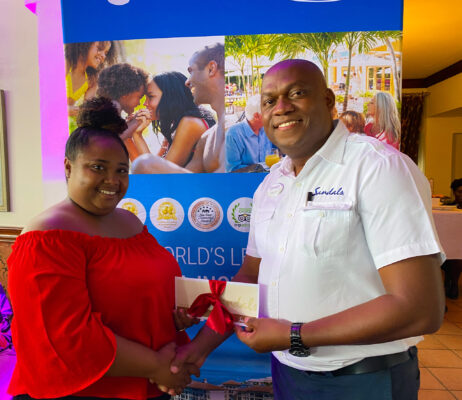 Over in White House, dancing, laughing, and eating was the order of the day for the teachers of the region at a celebratory luncheon hosted by Sandals South Coast. The educators were led to the resort's ballroom where they were immersed in the culinary skills of the resort's global gourmet certified chefs with a four-course meal whilst being serenaded by the sweet melodies of vocalists from the resort's entertainment team.
Throughout the luncheon, the educators participated in different activities to cop prizes, with a final raffle draw of two weekends for 2 prizes going to winners Pameto Linton and Charmaine Samuels, both coincidentally from the New Works Primary School. Other schools represented at the luncheon were Peggy Barry Primary & Infant, New Hope Primary, Whitehouse ECI, Bluefield's Basic, and Kings Primary and Infant Schools.
In Negril, the celebration hosted by Sandals and Beaches Negril was nothing short of sheer excitement for some 60 educators from eight schools across Westmoreland and Hanover. The teachers were treated to live performances by the resort's top performers, personalized bottles of wines for all in attendance, spa teasers and a delicious Jamaican-inspired lunch buffet. In an effort to make the day extra special, the teachers also participated in exciting games and competitions for a chance to win additional prizes.
Winning big on the day were teachers from Happy Hearts Early Childhood, Nadine Jarrett-Salabie and Aneisha Graham-Ewar, from Chambers Pen Primary, who both walked away with a 2 night/ 3 days stay at any Sandals Resort in Jamaica.
"Thanks to Sandals and Beaches Negril this was an amazing experience. The team catered to us right throughout; the entertainment was wonderful and we thoroughly enjoyed the food. I was thrilled because I won a gift basket and was also gifted a bottle of wine. It was great to get the chance to relax because as teachers we do work very hard," teacher at the West End Infant School, Connie James shared.
"Today's Teacher's Day was one of the best; I have won the ultimate prize of a weekend for two at any Sandals Resort in Jamaica, I have always wanted to win this prize and I'm truly elated that this year gifted me with such a blessing. On behalf of all the teachers I would like to say a big thank you to the Sandals and Beaches Negril team," teacher from Happy Hearts Early Childhood, Nadine Jarrett-Salabie added.
In the Ocho Rios region, Sandals feted more than 200 teachers from schools across the parishes of St. Mary and St. Ann at the resorts' ballroom to much pomp and pageantry.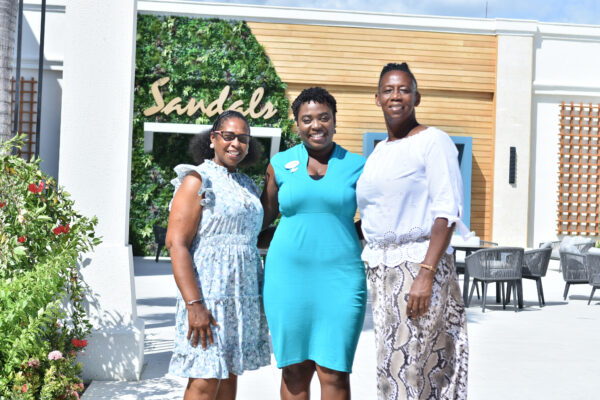 Principal of the Zion Hill Primary, Lenford Purcell, an educator for more than 40 years walked away with the 40th-anniversary prize. Said Purcell: "Having worked these many years as a mathematics teacher and now as a principal, and to be recognised by Sandals Resorts International is one of my proudest feats. I'm grateful for the team and the work that they continue to put into making the parishes more productive by providing quality work for residents and today in giving back to us as teachers."
Winner of a weekend for two, Verene Morgan from the Lewisburgh Primary and Infant school said she especially wanted to thank Sandals Resorts International Executive Chairman Adam Stewart for annually making this event possible to recognize so many of the nation's teachers. "We can always count on this extra special expression of recognition and we are truly appreciative," she said.