Between November and December of this year (2017) close to 180 pickleball enthusiasts and pros transformed the tennis courts of Sandals South Coast for not one but two pickleball tournaments: Surf and Turf and Jammin' in Jamaica.
Developed in the US in 1965, Pickleball is a paddle sport which combines tennis, ping-pong, and badminton and is considered to be one of the fastest growing sports in the US.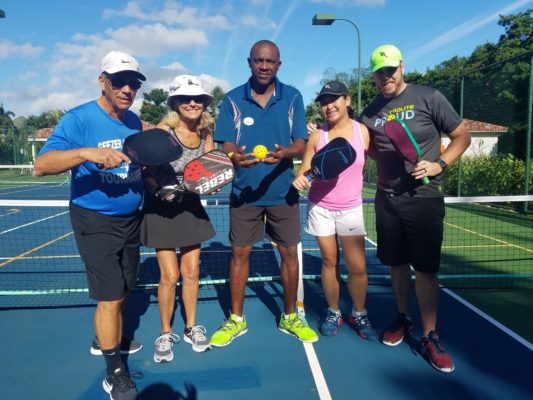 This is the second time that the Surf and Turf group is coming to Sandals South Coast, having hosted their first Pickleball Tournament at the resort last year.
It is now safe to say both of these groups have found a home at Sandals South Coast with its state-of-the-art playing facilities, sprawling grounds, luxury-included accommodations and inclusions and top-rated customer service. But perhaps the main reason why these groups are coming back to Sandals South Coast is the resort's Tennis Pro, Normal Hall.
Norman, who hails from Kingston, says he was first introduced to tennis at the age of nine. "While attending Papine Preparatory school, my friends and I would go over to the Liguanea Club on Saturdays to play," Said Norman.
When he was 14 Norman started playing in Junior Tennis Tournaments, advancing to the semi-finals and finals and taking home a plethora of trophies. "As I got older I knew that I really loved this game and that somehow my career would revolve around that passion."
And so it did, prior to joining the Sandals group, Norman worked within the tennis programmes of two premier Jamaican hotels. Working as an Assistant Tennis Pro at his first job, Norman had an opportunity to meet many Tennis pros and players who came to his resort to participate in various tournaments. Among the persons he met was Frederick McNair IV a former professional tennis player from the United States who reached the World No. 1 doubles ranking in 1976.
"Fred invited me to go with him to Boston to train; thereafter I spent months at a time training in the United States from Minneapolis to Chicago to Miami. I also spent six weeks training in Germany." Eventually, Norman was working part-time in Jamaica and part-time coaching overseas.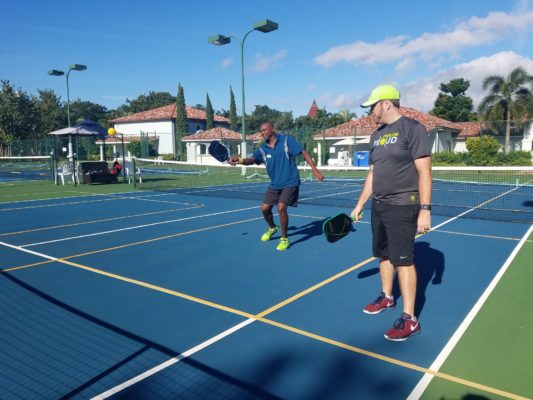 "I really enjoy tennis, and just being on the court, that's my time, my stage", says Norman, who averages up to 30 guests each week for tennis games and coaching sessions at Sandals South Coast.
TENNIS PRO TO PICKLEBALL ENTHUSIAST
While location-shopping for the Surf and Turf Tournament in 2015, Travel Agent and Tournament Organizer, Gayle Scoggins, admits that at first, she was a bit apprehensive about Sandals South Coast. "I wasn't convinced that the playing facilities would meet the expectations of our players," she said. However, it was during that tour that she also met Norman.
"When we met, she [Gayle] asked me if I was familiar with pickleball and I told her I was and that I would be happy to help her host the tournament here," said Norman.
"Furthermore, Sandals was committed to the idea and they truly went above and beyond in making preparations for our group", said Gayle, "so much so that the space we now have is truly first class."
The upgrades to the facilities were perhaps also due to Norman's extra prodding. "When I first came to Sandals South Coast three years ago, I found the playing facilities, inclusive of four tennis courts and a tennis shop, to be ideally situated but I kept pushing for further additions as I knew the potential." The prospects of Gayle's Pickleball group certainly pushed the envelope in making the upgrades a reality; from a complete re-surfacing of all the courts to the installation of backboards, new nets, etc.
"The facility is great", says Norman, "and has allowed us to tap into the sports tourism market, which I know has the potential to be quite lucrative."
If the numbers are anything to go by, then Norman could definitely be on to something. In 2016 Gayle Scoggins debuted her Surf and Turf Pickleball Tournament for one week with 34 rooms. So impressed was Gayle and the group with the management of the tournament, the overall Sandals South Coast experience and Norman's tremendous dedication and support that they immediately started making plans to return in 2017. This year Gayle and fellow Travel Agent Cindy Watty booked 90 rooms over a period of three weeks for not one but two tournaments.
"We definitely love working with Norman and that's why coming back is an easy decision," said Gayle. "During this year's trip we had some rainy days and I would get all flustered wondering if we would be able to play, but by the time I got to the courts to look around Norman had already come in from 6 am, dried off the court and replaced all the tape. This is the reason why everyone in our group loves Norman. He really makes this whole experience totally stress free."
"Pickleball is a new frontier for me," says Norman, who is currently working on getting his professional status in the game. "When the Pickleball groups are here they create an amazing atmosphere, I love the adrenaline and competitiveness and I'm very pleased to be their resort liaison."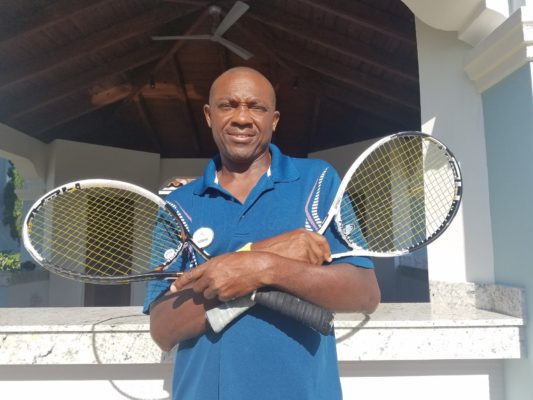 Sandals South Coast is also very pleased to have Norman on their team. "Norman epitomizes the kind of passion and dedication that our brightest and best team members aspire to", says resort General Manager, Adrian Whitehead.
"The investments in our playing facilities have definitely positioned Sandals South Coast as an ideal Tennis and Pickleball destination", says Whitehead, "however having a dedicated facilitator like Norman who is not only passionate about the game but about people and service to others is what has really made the difference as well as a considerable impact in our bottom-line."