In just eight months since her promotion as supervisor for the resort shop at Sandals Inn, Navia Thompson has developed a clear view of what she wants to achieve as she aims to pursue her wildest dream of someday becoming a sales manager for Sandals Resorts.
Dwarfed by a soaring inventory of varying merchandises at the resort shop at Sandals Inn, a 4ft and 5" tall dynamic and outspoken Navia Thompson does not hesitate to hustle her way during the day to make a sale.  Her manner is unassuming (as though she is shy), but a mere tactic to sway her guests to give into her suggestions of items to purchase.
Navia was born in Maroon Town, St. James and is the fourth of six children. She attended the St. James High School. Throughout her teenage years, she had set her sights on becoming an air hostess.  However, an unplanned pregnancy spurred and she had her first child, Tresia which forced her to seek employment.
At only nineteen years old, she began working at a clothing factory in Montego Bay to make ends meet. She describes her life experience then as one with "struggle and strife" that she tried so hard to endure.  Nonetheless, she lived up to the old adage" there are no chance encounters."   With that said, she yearned for an opportunity to gain a job in the hospitality industry which she felt was her calling.  As such, she decided to enroll at the training institution H.E.A.R.T. Trust in Granville, St. James.  At the time, housekeeping was the only vacancy available.  Nonetheless, she had all intention of simply gaining some certification in a skilled area that would qualify her to get a better paying job.
The Sandals Journey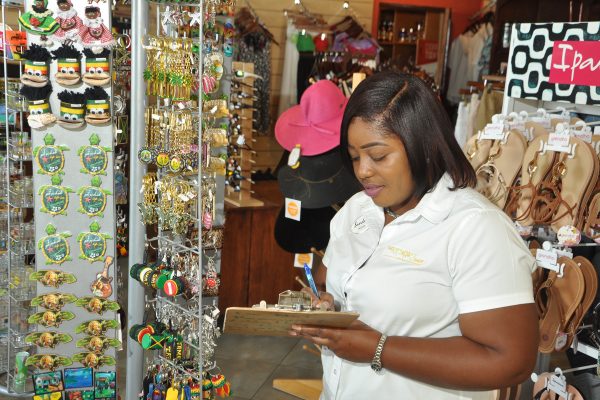 Navia heard of an opportunity where Sandals Royal Caribbean needed casuals to work at their lavish "Reunion Week" of activities that required food and beverage services. She gladly took on the challenge to make an impression with the hope of gaining permanent employment.  Her charm and warmth radiated during her service delivery which caught the eye of her superiors.  This resulted in her being employed to Sandals Royal Caribbean in 2006 to 2011 as a waitress.  Unfortunately, a distraught Navia, got ill and was forced to resign. After she was back to good health, Navia was employed at the gift shop at the Sangster International Airport and stayed for only four months.
She recalls, "I missed the culture I experienced at Sandals Royal Caribbean. At the resort, you have the opportunity to be more involved in various on-property activities that created much exposure for me."   She beamed as she reminisced on the call she received from the resort asking her to rejoin the company.  It was that same year she pledged to stay with the resort.  Fortunate for Navia, she was hired as the resort's sales representative in the gift shop. In 2012, she was transferred to Sandals Inn and continued to display her tenacious personality that became contagious.  With a positive work attitude, no one would deny Navia of moving forward in seeking to develop herself both personally and professionally.
Today, Navia considers herself a champion for young people as she has sought to take full advantage of all the training and development opportunities offered by the Sandals Corporate University (SCU). "I strongly believe that SCU saved my life.  It has given me a second chance at proving my worth as a hardworking person.  Through this I now have certifications in sales and leadership training which has helped me to perform at work at a higher standard."
Navia has since been promoted to a supervisor at the gift shop and is also enrolled to do the Food and Beverage as well as Supervisory courses offered by the American Hotel and Lodging Educational Institute.
This promising and aspiring sales manager admits, "it does not matter if you started small, you can rise despite all odds. I am now living my wildest dream of working for a first class company, being promoted and having a job I enjoy doing each day."