In this installment of Our Stories, Reginald McGreggor explains how he is living a successful life despite his disability…For many people, Jamaica is pictured as an island paradise – white sandy beaches, a beautiful and vivacious culture, rich and wholesome food, and attractive people. And while that image is not far from the truth, if the lens is focused on the inspirational stories of ordinary Jamaicans, you'd find a sharper, richer and truer image of the Jamaican experience…this is Our Stories!
Meet Reginald McGreggor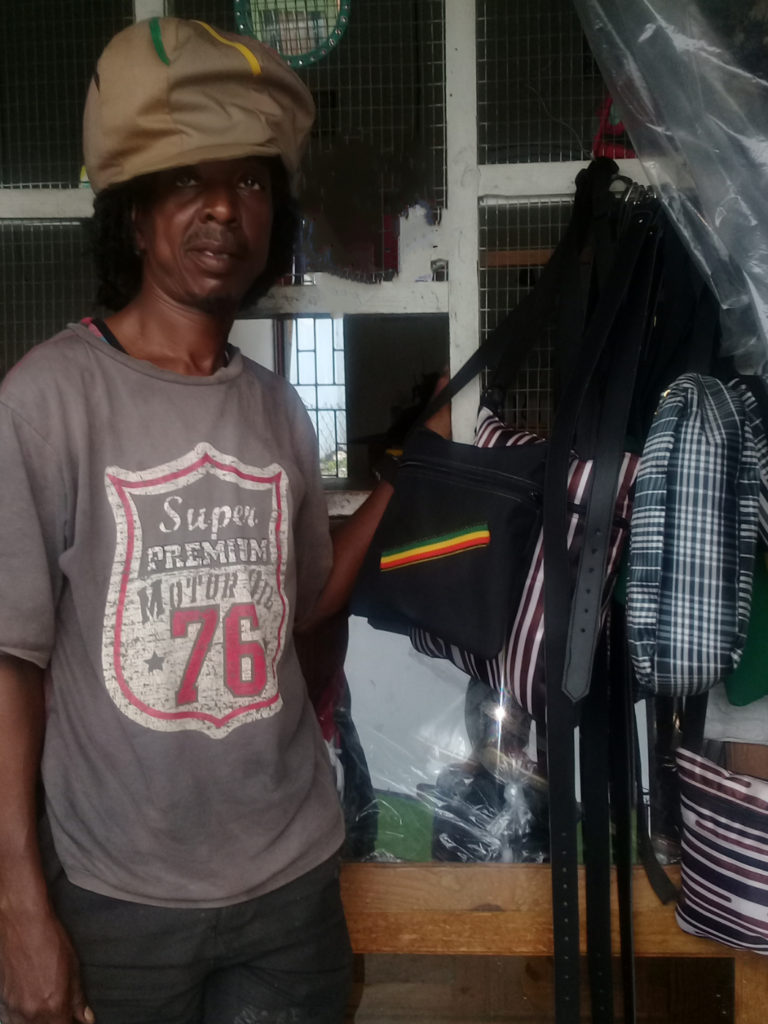 He was abandoned when he was thirteen years old and spent most of his time on the street begging and doing menial jobs for people. Things got worst when he sustained severe spine injuries during a bicycle accident rendering him disabled for life. Nonetheless, Reginald has always tried to succeed in life and help others along the way. Despite his disability, he makes a variety of products such as bags, jewellery, belts, slippers, and hats. He has a thriving business and employs persons from his community to assist him with his business.
How did you fend for yourself at such a tender age?
My mother and father were very poor so I was left to fend for myself when I was very young. I didn't get to attend school regularly and so I left school at a very early age. I used to get up early in the morning and go to the river to bathe and wash my clothes, and then I would go near to the grocery shop and beg money or something to eat. Sometimes I would try to get little jobs to do.
And after the accident, how did you manage?
I was in the hospital for a while where I got medication and then got released. It was a very rough time for me. However, I got assistance from a lady who knew me before I became disabled. She used to cook and wash for me. She helped to take care of me before she moved to the States.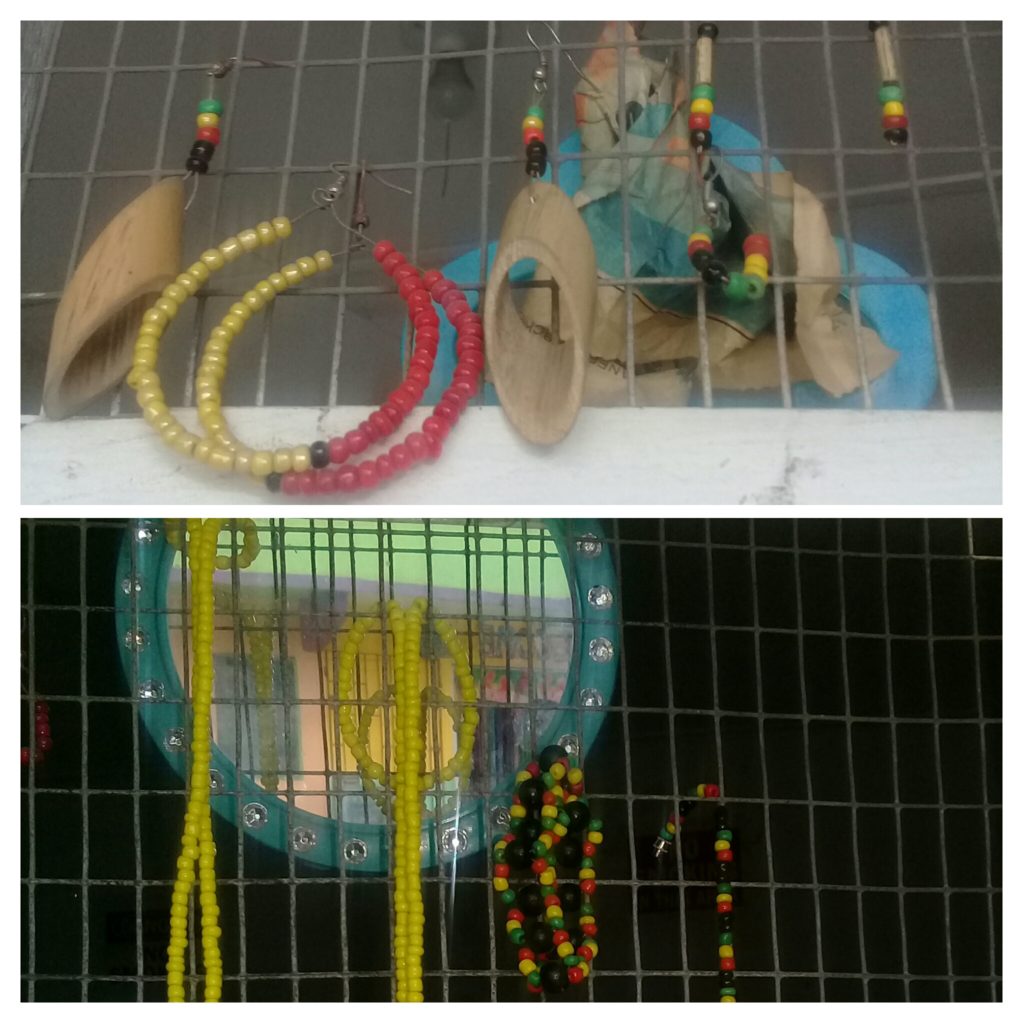 How did you start business after the accident?
After the accident (when I got better) I went to see a JP in my community who told me how to get help from the NIS and I got money to help purchase a machine. The money wasn't enough so I went to a councilor who gave me the rest of the money. I used the machine to start making bags and sewing the products at home. The products were in high demand so I had to hire an assistant. I taught the person how to make the products. Although I am disabled, this didn't stop me from having a successful business.
When did you start your business?
I started in 2003. I initially used to make things and sell from my home. I used to sit under a tree in my yard to make the products. I didn't get a shop until December 2015.
What is the name of your business?
The name of my business is Swelley's Unique Craft shop
What kind of things do you make?
I make bags, belts, slippers, hats, and purses. I also make jewellery such as earrings, necklaces, and bracelets from beads and bamboo.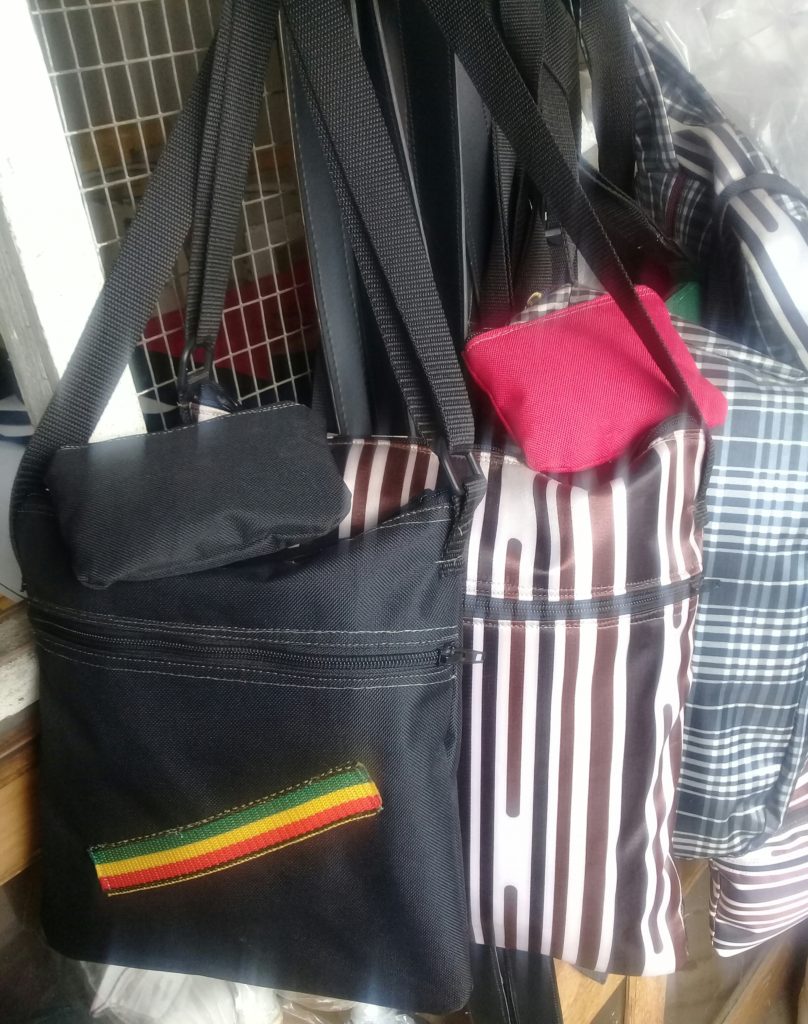 Do you take orders for your products?
Yes, because sometimes persons come in with a particular design and I make it for them. Then other persons might come in and like it and order it. However, I take a 50% deposit on products that are ordered.
Tell me….Where do you get the material from to make your products?
Well, I get most of the material I use from Kingston. I ask persons to purchase the leatherette from People's Leather and other material in Downtown Kingston. I get the bamboo that I use to make earrings from different places in the country.
Do you help in the development of your community?
Yes, I do help. I assist persons in the community by giving them money and products such as schoolbags to send their children back to school. I also teach young people how to make my products. Sometimes persons come to me for assistance for their children and young people asked me to teach them how to make the products.
Where do you see the business going 5 years from now?
Well, I intend to expand the business so that I can sell the products at a wholesale price to business places and even to set up a business in a tourist resort.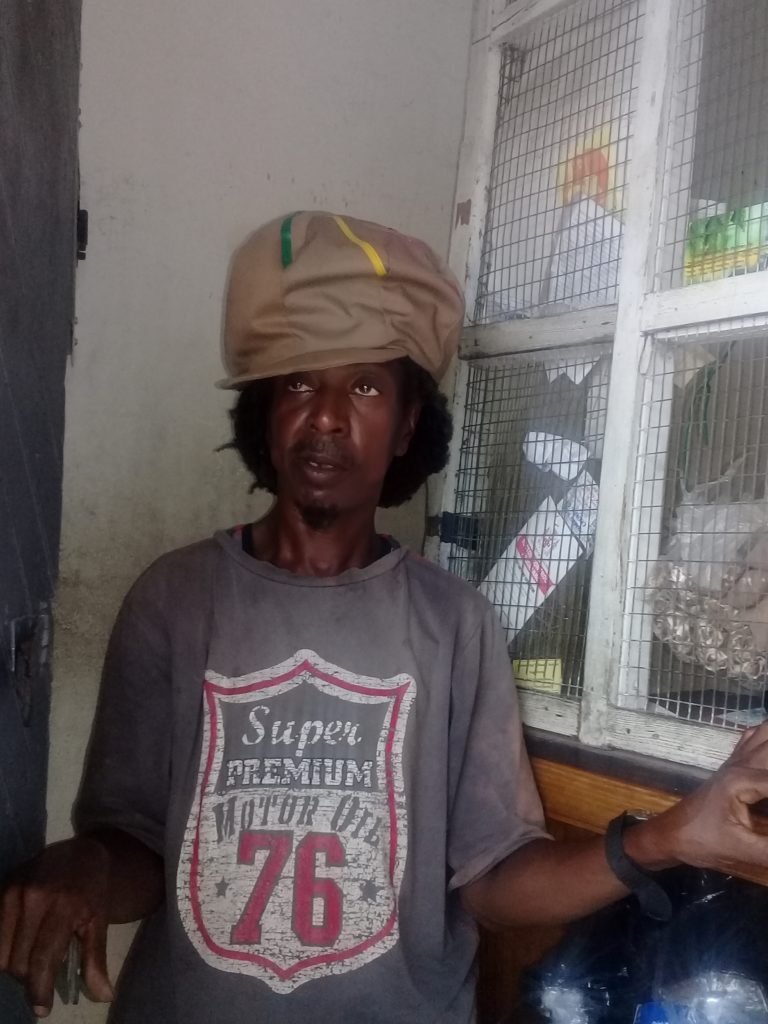 Thanks for sharing your story Reginald and all the best!