Negril, Westmoreland: Hanover's homeless, registered poor and temporarily poor residents got a pretty good start for the New Year after benefiting from products and services provided to them at the Hanover Parish Council's Poor Relief Health Fair.
An annual event geared towards creating a healthy lifestyle for the less fortunate represented a continued partnership between the Parish Council's Poor Relief Department, Sandals, Beaches and Grand Pineapple Resorts, Ministry of Labour and Social Security (MLSS), The Lucea Fire Department, Hanover Health Services and Caribbean Producers (Jamaica) Limited.
Sandals resorts, for the third consecutive year, provided grocery items including flour, rice and sugar to create food packages for those in attendance.  Resort volunteers were responsible for the orderly distribution of these packages along with toiletries, school stationery, book bags, shoes, clothing, toys and cooked meals to the residents.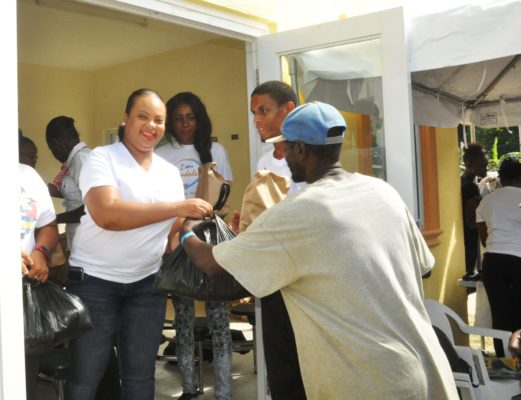 In addition to the packages and meals received, attendees also accessed free health and dental checks from members of the Hanover Health Department and the Fire Department's Emergency Medical Services team. Information on how residents could apply for grants through the MLSS was also readily available and assistance with grooming was provided to the homeless citizens in attendance.
According to Neika Edram, Inspector of Poor at the department, some 250 persons benefited from this year's event which would not have been possible without the partnership from Sandals Resorts from the Negril region and other key sponsors. "We can rely on Sandals every year to play a major part in this initiative. Not only do they provide large amounts of groceries, but a friendly group of courteous and fun volunteers always turn up to help with the fair every single time. Our small staff complement at the Poor Relief Department could not handle such a large volume of persons for the entire day. We are forever thankful for their willingness to always join us in this much needed and very impactful initiative year after year."