Miss Sandals Flagship 2018 will be crowned in a glittering ceremony at the Conference Centre, Sandals Montego Bay, on Friday, September 28, starting at 8:00 pm.
The eleven talented and culturally and environmentally aware Sandals Montego Bay team members vying for the title are: Shandel Buchanan, Housekeeping – Miss – Duke of Earle Wavs & 107.6; Marie Watson, Kitchen – Miss – Y2K Sports; Kerine Morgan, Dining Room – Miss Chow's Cash and Carry; Jessica Riley, Spa – Miss Quick Bite; Kerry-Dee Johnson, Front Office – Miss Enterprise Car Rental ; Shamica Samuels, Engineering – Miss Lyming at Walker Wood; Areko Taylor, Front Office – Miss Usain Bolt Tracks and Record; Shantal Smith, Watersports – – Miss Fit Body in Progress; Trishanna Coleman, Entertainment – Miss Barrett and Lewis Pest Control; Carla Drummonds, Loyalty and Travel – Miss A.L Golaub and Son's and Patrice Williams, Front office – Miss Wards Power Tool.
The grand finals, which is open to members of the public to attend, is being organized by the Sandals Montego Bay Sports and Social Club, with the overall objective of exposing the multitude of talent among women in the resort.
Sigourney Hastings, training and development manager for Sandals Montego Bay and one of the chief organizers of the pageant, noted that all is now set for what promises to be a grand affair, as apart from the contestants, added entertainment will include a surprise guest artiste as well as a number of impromptu performances.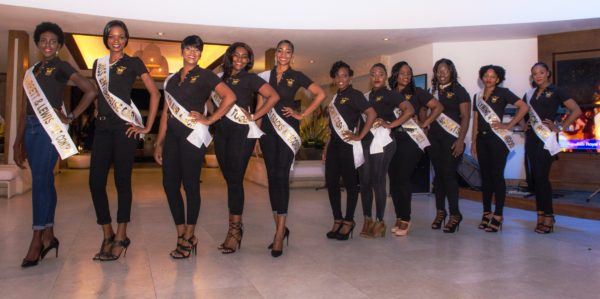 According to Ms. Hastings, the contestants have been coached in voice and speech as well as undergone etiquette and fitness sessions under the stewardship of established professionals in those fields.
"Sandals is known for top class productions and this promises to live up to our high standards and traditions," Hastings said. "The contestants have had a great time leading up to the finals with Spa treatments; Catamaran cruises and visits to other Sandals Resorts."
The contestants have also been involved in a number of environmental projects including cleaning up sections of the White House community.
Ian Spencer, Sandals regional public relations manager, observed that the contestants had been working hard to ensure the event is a success and had been steadily bonding as a unit. He praised Sandals Resort for their efforts in promoting the efforts of women and promise patrons attending the event an evening to remember.