You may remember her from a popular television show a few years ago. She was the young lady who did a controversial dancehall move during one of her performances in the singing competition. She laughed as she reminisced about the night.
"Oh my goodness, everybody remembers me for that move. I can't seem to live that down." But while she is also an excellent dancer, Kimanda Cunningham's most obvious gift is singing. No wonder the St Catherine native and former playmaker at Sandals Negril is now the driving force behind Broadway, the resort's leading entertainment show that takes place on a Tuesday Night. She continues to receive rave reviews from guests and resort staff alike as she thrills her audience with her belting, mellifluous notes, always leaving them yearning for more.
Before this though, Cunningham was on a musical quest. She has had her fair share of disappointments along the way but she is truly happy for the opportunity given to her by Sandals Negril to showcase her talent to a global audience every week. She runs her own show-literally.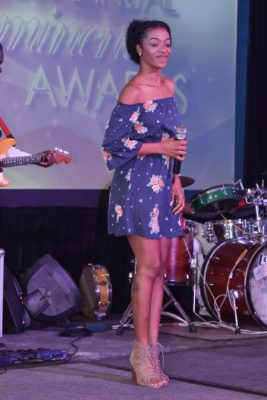 Though she is now most people's favourite songstress, it was her cousin who first discovered the gift. "I was at home singing casually one day when my cousin heard me and started screaming. She was yelling with excitement and telling me how great I sounded. She called a number of persons to come and listen to me and she said, 'girl you can sing!' I was like, 'really? Maybe I can for real,'" she explained.
That was when she started taking music seriously and entered Digicel Rising Stars.
The mezzo-soprano did not win the competition; she believes she won something even greater.
"While I was in the competition, my potential was realized and I was offered a two-year scholarship to pursue an associate degree at Edna Manley School of the Visual and Performing Arts. I was like, whaaaat!" she shared.
At the time she was offered the scholarship, she had almost completed high school and was excited to embark on this new journey.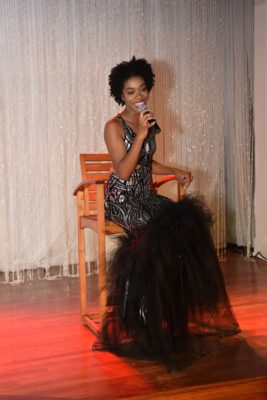 "It was not easy. It was more than just singing. It was rough but I was so happy to be pursuing something that I love. I met a number of people who changed my life for the better. My music teachers, Mr. and Mrs. Watson were two of them.
But unforeseen circumstances would see Cunningham's dream quickly becoming a nightmare. Due to financial difficulties, she was unable to complete her studies and her father did not wish to support her musical journey since he saw his daughter as being more than a mere singer.
She was devastated. "He wanted me to become a lawyer. My father did not see music as a career. The fact that I am female did not make it easier for me because he felt females had to do demeaning things in order to survive in this industry. He had a different vision for me," she explained.
Not knowing what else to do, Cunningham started accepting small singing gigs. She recorded some music of her own and grabbed the opportunity to collaborate with big names in the business, like Busy Signal, RDX, and Kalado. She performed on Fully Loaded and further relished a performance for the Prime Minister. It was at this point that her father started hearing her music and understanding how talented she truly was. Again, these opportunities were short-lived as she had no booking agent or manager.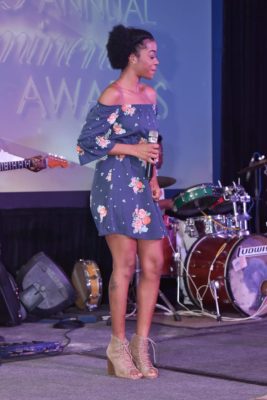 She was later introduced to the role at Sandals Negril as a playmaker and quickly became a guest favourite and one of the most sought-after voices.
"I was a playmaker for almost a year but my heart wanted to sing, just sing. I learned a lot as a playmaker though as that was how I mastered the art of public speaking. I also learned how to interact with different cultures but I just wanted to sing."
She recalled how she spoke to her manager about giving her a show of her own. This was approved and Cunningham became the face of Lovers Rhapsody which became a staple on the resort.
Cunningham was happy to be doing what she loved but admits that while she was learning she wanted to focus on just singing.
After a series of discussions with her manager and other mentors, she was able to resign her job and was quickly contracted to work as a lead singer for Sandals Negril's Broadway show, continuing to captivate her audience every Tuesday night.
With her hurdles and rough patches now behind her, Cunningham is focused on protecting her sound and pleasing her guests one beautiful note at a time. She remains grateful to Sandals Negril for entrusting her with a microphone and ensuring she always has an audience.
Her new arrangement with Sandals Negril has afforded her the privilege of sharing her craft not just with the Sandals audience but across the industry.
"Sandals Negril has certainly opened many doors for me. I have found a place and a family within Sandals and I will remain grateful to them for allowing me to live my dreams," she said.