In today's busy world, finding the balance between your work and personal life can be a huge challenge. Whether it's finishing up paperwork after hours or going to the gym, we are often playing tug-of-war with daily activities. Kevin Birch, showman and seasoned waiter at the Sandals Royal Caribbean has no issue when it comes to balancing anything. Known for his exuberant serving style, Birch never fails to put on a show for his guests whether by balancing food orders on his head or spinning trays from his fingertips.
As a student of the Maldon High School in Maroon Town, St James, a then reserved Birch decided to pursue vocational training at HEART Trust in 2004 immediately following his graduation. It was there he discovered his true passion for the hospitality industry and gradually became comfortable with being at the forefront. "Whenever I was sent to serve, I felt as though I was in my element. I loved it and quickly became more comfortable doing it with each month," Birch admitted. Trained in front office operations and bartending, he would be required to have constant contact with guests which jump-started his evolvement.
In 2005, before completing the training programme, Birch was given the opportunity to wait an event at Sandals Royal Caribbean where his charisma and enthusiasm stood out to one senior manager. His superb skills landed him a part-time position as an apprentice although he was still attending school. As an acclaimed 'go-getter' he accepted the offer and humbly balanced his added responsibilities.
"I knew it would be difficult and the hours would be long but I just needed a foot in to make a lasting impression and secure a permanent position," Birch explained. After only a few months, Birch's eagerness to learn resulted in him being among the first batch of employees for the Luxury Included® resort's, Cricketers' Pub -an energetic tavern-like sports bar for which staff were required to maintain a lively atmosphere.
The then General Manager, Jeremy Mutton, enforced skills training sessions to ensure that wait staff could entertain guests while serving. An intrigued Birch, wanting to make a lasting impression on his guests, started out balancing bottles on his head and doing simple tray spinning techniques from his fingertips. However, through continued research and practice, he decided to add some complexity to his performance by balancing larger and heavier objects such as beach chairs on his nose. This, coupled with his excellent service and positive work ethic led him to become a crowd-favourite and copping awards such as the General Manager's Award, Smile and Courtesy, Legendary Award- most guests nominated and the internationally recognized Trip Advisor Exceptional Service Award.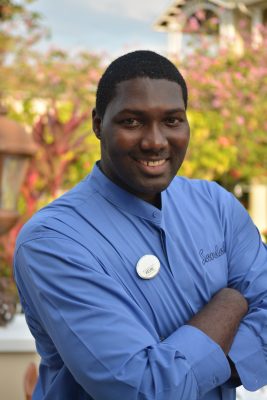 Work-life balance
For the past 11 years, Birch has worked six days a week within the hospitality industry while maintaining a healthy social life. "Working in the service industry is rarely predictable and so it is necessary to have a flexible schedule to accommodate impromptu requests. However, it is important for me to make the best use of my time-off to enjoy car racing, playing pool and spending quality time with my family," Birch explained.
Maintaining a buoyant and gregarious attitude is not always the easiest in such a fast-paced profession, however Birch mentioned that "the best way to approach work is with positivity…once you're at work you're on show," he explained. "I believe approach is contagious, therefore if I serve with a smile I generally get good feedback from my guests and that motivates me," he further advised.
Evolution at Sandals
Recently, the top performer and face of the Cricketer's Pub at Sandals Royal Caribbean was transferred to the Regency Suite- a significant change from the spirited environment to a more classic and elegant dining option. The Regency which hosts over 200 guests is more structured and requires a more experienced wait staff.
Nataliea Corbett, Restaurant Manager at the Regency Suite advised that, "It was decided some time ago that as part of his professional development, we would transfer him [to the Regency] to expose him to a more elaborate and sophisticated setting. It has been almost a year now and he has shown great progress and still manages to wow our guests during the nightly entertainment."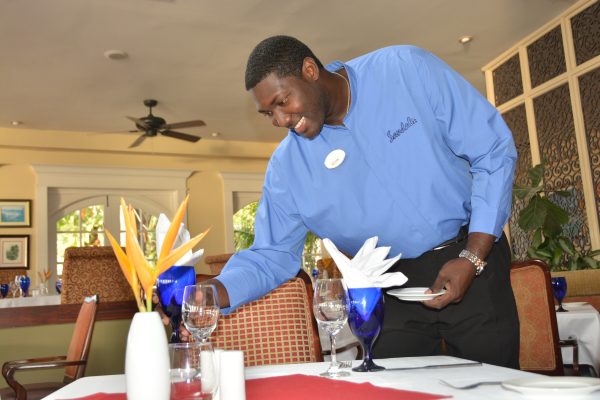 Birch showcases his talents every Wednesday evening during the resort's show-time by singing, doing impersonations or his all-time favourite of balancing objects.
"I have maintained some good relationships with guests, my colleagues and my managers, so I feel at home when I'm at work," Birch mentioned. "My job has afforded me the opportunity to –More-
find my true self, be bold, take chances and develop myself personally and professionally." he added. With hopes of one day becoming a Restaurant Manager, Birch continues to evolve as a professional and as a performer.