Kingston, Jamaica- Upcoming vocalist, Kerry Starr released her new single called Core – which talks about some issues facing poor people and encouraging strong action on their behalf.
The new single is available online and is now being distributed to radio stations locally and internationally.
"I want people to feel empowered from my music," said Starr. "My music is to have fun and create awareness on issues among each other".
The young singer is building her catalogue of music with over 15 songs to her performing credit.  Not a novice to the music scene, she first honed her singing, dancing and performing skills with the Ashe Performing Ensemble before touring Europe. Freshly back from Europe, the rising singer is pushing to impact the Jamaican music scene.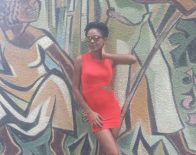 She credits her musical influence to her father, who played the guitar. She recounts many memories of being enthralled by his playing. Later on, artistes such as Lauren Hill, Bob Marley, Peter Tosh, Tanya Stephens, Pink and Jimmy Cliff would factor into her musical influences.
Under the management of Peter Campbell, Starr is slated to start touring locally.