American civil rights activist Martin Luther King Jr. once said, "If a man is called to be a street sweeper, he should sweep streets even as Michelangelo painted or Beethoven composed music…"
Perhaps no one embodies this belief more than Judine Thompson, a jaunty room attendant at Sandals Royal Caribbean Resort & Private Island in Montego Bay. Her day-to-day duties may confine her to rooms at the 5-star resort, but she is popular among guests and team members for her caring nature, friendly greetings and the bright smile she shares even with those she sees several times each day. This quality has earned her the respect of her colleagues and frequent mentions from guests who leave reviews on the resort's TripAdvisor page.
According to Judine, the joy she spreads emanates from within and this is the secret to the great service she is known for.
"To give great service you have to be happy with yourself, accept yourself and then you will be able to pass on all of that to the people around you. People ask me why I am always smiling and greeting others, I tell them it's because I am happy on the inside," Judine explained confidently.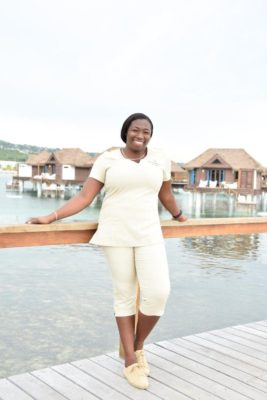 Yet she admitted that she wasn't always a happy individual.
The vivacious 31-year-old said she went through a period in her past when self-love seemed unattainable due to many disappointments she faced in life.
"There was a time when I felt like none of my dreams would come to pass and this really took a toll on me. I wasn't happy on the inside and I had destructive tendencies towards myself as a way of coping," Judine expressed.
She said she found joy in spending time with her parents and siblings and this helped her to overcome her struggle. She also found strength in the friendship of a young woman with similar experiences. But according to Judine, complete healing came when she accepted all the disappointments and failures in her past and took charge of her own happiness.
"I decided that only I can make myself happy, no one or no position in life could do that for me. That's when things really began to turn around. That's why I say that service first comes from what you are feeling on the inside. I got better at my job because I was motivated from within." Judine stated.
That improvement in her work caused Judine to win big at Sandals Royal Caribbean's recent staff awards. She copped the Pacesetter Award For 2018, a prize bestowed by a resort's General Manager on a team member who has shown outstanding contribution and commitment to the resort.
"This award is proof that I am improving as an individual. It has motivated me to continue doing what I am doing because things can only get better for me at Sandals," Judine added.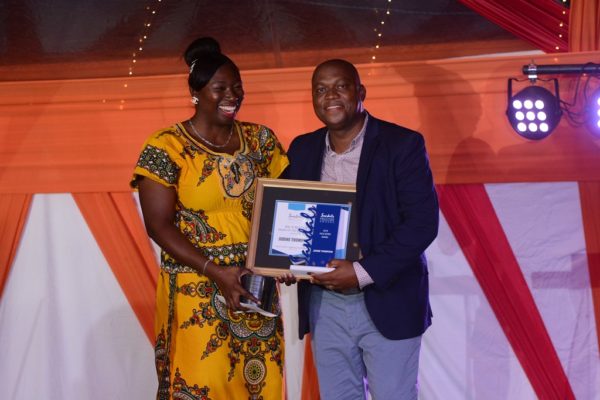 The perception that things will get better was confirmed by Tracie Shortridge, Learning and Development Manager at Sandals Royal Caribbean. She said Judine has also been placed on a development plan, where she is currently taking courses through the Sandals Corporate University (SCU) that will prepare her to take on leadership roles within the Sandals group.
She's already completed courses in Supervisory Management and Professional Communication among others which are enhancing the skills she already possesses.
"Judine is a highly self-motivated individual who is always looking at the positive side of things. No matter what delay or disappointment comes in her desire to achieve success, she always just shakes it off and tries again, that's a characteristic that Sandals likes in its leaders." Shortridge expressed.
Motivating others
Although she's seen as a rising star, Judine continues to look out for those around her. Because of her past struggles, she now makes it her duty to uplift others.
"Some of the younger team members see me as a mentor, I make sure I am always available to listen" said Judine. She added that though she is proud of her professional growth at Sandals, she remains humble as she still has a lot to learn.
"Yes I do believe I will become a manager at Sandals one day, but in the meantime, I want to learn as much as I can. I am doing courses with the SCU that will prepare me to take on leadership roles. I am in no hurry, I just want to take advantage of all the training and experience at Sandals because the opportunities here are endless," Judine said confidently.