Janeé Sebright is from West Trinidad. She is 25 years old and a sales supervisor. Janeé loves her country and describes Trinidad as a fun place and a true paradise. Trinidadians are very social. In keeping with tradition, Janeé spends her weekends lyming. Lyming is the Trinidadian equivalent of a Jamaican link-up. Janeé also loves the great outdoors and spends time enjoying the tropical paradise at the beach or on hikes.  She is happiest among good friends and family and values genuine and down-to-earth character traits. In Janeé's eyes, Trinidad is a beautiful place full of beautiful people, and preserving that beauty is important to her. As such, Janeé is concerned about the ugly way her fellow Trinidadians have been treated by their employees during the COVID-19 pandemic.
Janeé started out by raising the concern that employees' contribution to companies is often undervalued.  Janeé believes companies should be more appreciative of employees who have worked dedicatedly for years. They shouldn't be casually discarded when considered no longer productive. In the current COVID-19 pandemic, Janeé was a recipient of such mistreatment. This sparked a new passion in her.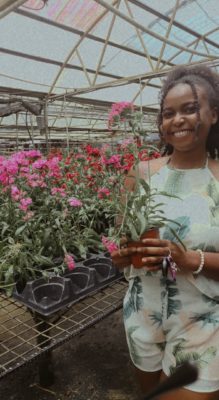 Janeé recounts being acknowledged among the best employees on more than one occasion by this company. She was lauded for bringing the company revenue over the last four years. Though her job was sometimes stressful, Janeé was happy doing her job. When the pandemic hit, she was beset by a string of daunting changes. She was relegated to the indoors and her active social life basically came to a standstill.  Now facing periods of isolation and having to adjust to working from home and other personal issues, Janeé was left reeling as she tried to cope. No doubt, this took a toll on her professional performance. Although her employer provided counselling sessions, Janeé wasn't allowed enough time to find her bearing. She was scraped away as dregs among the unemployed. Her previous accomplishments meant nothing to the company.
Janeé felt that having given her support to the company for four years when she finally needed support she was made a rather meager offer. Janeé watched her situation echo among fellow Trinidadians when the pandemic hit. Companies were closing their doors, downsizing, and casting employees out in the midst of the pandemic. While downsizing during a pandemic is understandable, Janeé's concern was that this particular company was profiting as an essential service during the pandemic. The pandemic was used as a guise for downsizing and discarding employees without feeling.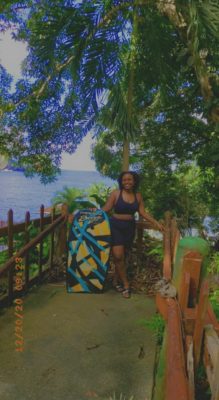 Though Janeé has since recovered, she looks back and thinks of Trinidadians faced with her struggle with nowhere to turn. She believes there should be a non-governmental body that advocates for employees and guides people in similar situations as to the next steps. If this body does exist, she thinks more awareness needs to be raised. Janeé would like to be one such beacon of light, and moves to create a blog where she can voice such social concerns. Her internship here at Live Well Jamaica is a step in that direction.