In this installment of Our Stories, we will explore Taneisha Noyan's journey during the coronavirus pandemic in Jamaica. For many people, Jamaica is pictured as an island paradise – white sandy beaches, a beautiful and vivacious culture, rich and wholesome food, and attractive people. And while that image is not far from the truth, if the lens is focused on the inspirational stories of ordinary Jamaicans, you'd find a sharper, richer and truer image of the Jamaican experience…this is Our Stories!
Never in a lifetime would we imagine that a virus, the coronavirus, would ever rock the whole wide world in such a manner! No one expected that the beautiful island paradise of Jamaica, where tourism is one of the major sectors contributing to our development, would experience months of restrictive policies on movement, social distancing, and islandwide, nightly curfews.
As news broke in March 2020 worldwide about positive cases of the deadly coronavirus in Jamaica, the government of Jamaica quickly made preparations island-wide for the safety of its citizens and tourists vacationing on the island. The tourism sector was ordered closed immediately, with curfews in place throughout the different parishes.
Meet Taneisha Noyan – A Hair & beauty cosmetics sales associate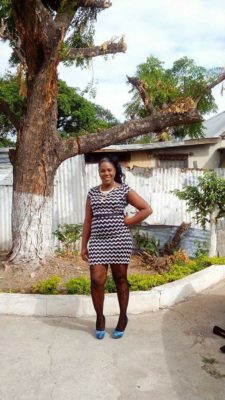 Taneisha is a hardworking individual who works six days a week to take care of her family. She had just purchased her dream home through NHT four months prior to the pandemic, and she was now told her hours of work and her salary would be cut due to the financial constraints on businesses and organizations.
Not long after, Taneisha became ill and was diagnosed with cervical cancer. She needed to do major surgery immediately in order to save her life.
With the help of God, some family members and friends, her surgery was successful and she was assigned home care. As days and weeks went by, more and more people became infected with the virus. However,  Taniesha is now stuck at home overwhelmed with bills and the thought of how she is going to make ends meet for herself and her family.
Buh wen satan seh yah, Jesus seh nuh!  Taniesha had a speedy recovery and her employer called her back in to work. In spite of the pandemic being far from over, Taniesha now wonders what procedures are now in place to promote safety among tourism workers within the two leading resort parishes of Jamaica without affecting the positive engagement of international tourists.
How is the cancer now? how are you feeling internally?
Well, [I] am feeling great internally. My last check-up, the doctors told me [I] am fine. I still have to go to the doctor's office on occasions to check if everything is fine and so far it is, and I am so grateful that my life was spared.
I'm glad to hear. How did you feel the very first day of returning to work?
My initial thoughts of returning to work were neutral and I had a lot of mixed feelings going on. At one point, I was happy to still have a job and still able to get out and about without being stuck in bed, at home all the time, and on the other hand, I was thinking, it is a wise idea in returning back to work. However, my major thought and concern was about my health, because I had to be extra careful in not getting the virus based on my previous health conditions. Hence, the very first day back at work, I kinda felt paranoid, I washed my hands more than normal, I sanitized more often, and kept my mask on right through the day, while checking my temperature and making sure I follow the procedure in regards to social distancing.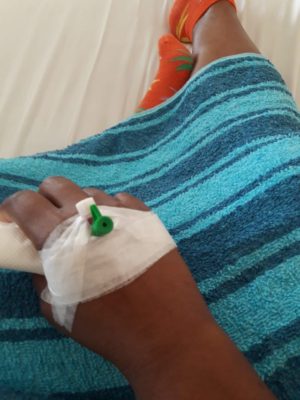 What other concerns did you have?
Coming in contact with someone that has the virus, touching dirt surfaces and unawarely touching my face and nose, workplace not having proper measures, procedures, and sanitizers in place for employees, not getting the proper training to be fully equipped in dealing with the situations that may arrive.
Upon hearing that you can return to work, did you have any concerns that contracting the virus would make the cancer more vicious on your body?
Yes, that was one of my major concern [s] and I was told by the doctors that I will have to be extra careful in not contracting the virus. With that being said, I have to make sure I follow all the measures and procedures put in place.
Are there any additional materials,  training, or equipment that you would need to feel safe?
Yes, sanitizer stations, Employer, employees, suppliers, and tourists wearing masks covering nose and mouth all the time, proper training put in place to train each employee about the pandemic,  and what to do in any given situation,  and the proper protocols put in place to follow.
What were your first thoughts when you realized you had to work among visitors to the island?
Well my first thought was how am I going to make sure I protect myself as best as I can, what steps am I going to take, and what to do if I come into contact with someone who has the virus, and what protocols and procedures management is going to put in place for employees and tourists to feel safe.
I completely understand. What motivated you most about returning back to work?
Interactions with my fellow colleagues, being able to get out of my house and be productive, while making an honest bread, being independent in working my own salary to take care of my Bill's and family.
Have your working hours changed due to the pandemic?
Before the pandemic, my hours of work was from 9.00 am – 8:00 pm, six days per week, now the hours are from 10.00 am – 7:00 pm, five days per week.
What recommendations would you share with management to put in place for employees and tourists to feel safe?
I would recommend more safety and awareness training to be put in place for employees. Also for management or employer to ramp up sanitizing practice, cleaning protocols, and hand sanitizer stations.  Implement more electronic payment procedures and move away from cash collection, encourage and motivate employees and tourists to wear a mask all the time to cover nose and mouth, and make sure each individual adheres to the practice. Also, stress social distancing and stick to procedures, while still making sure tourists are satisfied and their needs are met all the time.
These are valuable recommendations. Thanks for sharing your story Taniesha!