He has given of himself to the industry for well over 20 years and still Hilroy Mighty's passion to please, excite and spread love and care to customers remains unwavering.
The fact that the 50-year-old Concierge Supervisor at Beaches Negril often receives rave reviews from visitors is proof of this. So loved is he by his guests that one, in particular, asked him to be a witness at his wedding.
"The concierge team, who we met on arrival – you are great! Hilroy went out of his way to assist us with upgrading to a different room category. He was amazing and checked in on us throughout the stay. We were so touched by Hilroy that my husband asked him to be a witness at our wedding. Hilroy came in on his day off to perform this for us and is now considered to be part of our family, or as he said, 'our Jamaican brother'. My husband actually shed a tear when he bid Hilroy farewell," shared the guest on Trip Advisor.
When Hilroy Mighty listens to the thankful words from his guests, employers, and colleagues his reaction is always a humble nod accompanied by a smiling "you are welcome" but if you continue the conversation beyond the appreciative mutterings, you might just get the reason behind why this man has been so inspired to blaze his own trail, wowing and satisfying visitors of all ages and from all walks of life.
"I am the one who is thankful to the tourism industry that has given me so much. My biggest achievement to date is being able to provide my children with a comfortable life and a very good education, all thanks to my years working in hotels," Mighty shared.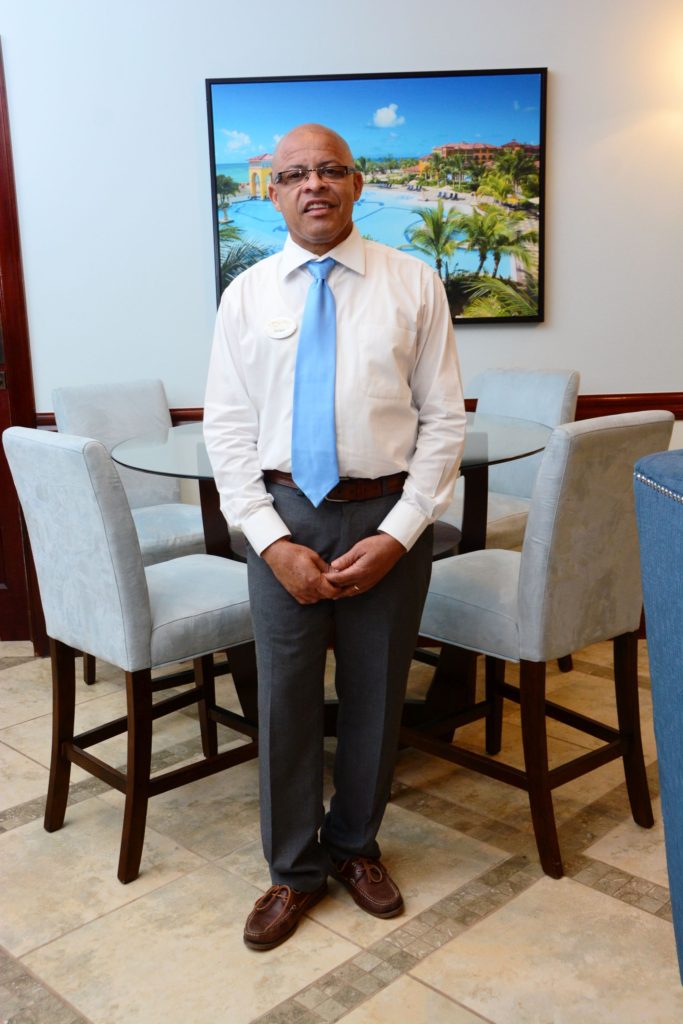 If you hang around a little longer, he will regale you with tales of his past and how he got started. He shared that in the 1990s things were tough financially and at 27 years old, living with his mother and at times his father, who were both unemployed, wasn't easy. "In those days, whatever came your way you took it on as long as you could earn an honest living. That's when I found out about available work at Poinciana Resort and the industry has stolen my heart since then."
Mighty started working for the Beaches brand after Beaches Sandy Bay took over Poinciana and then later transferred to Beaches Negril. He has served as a bellman, doorman, lobby host, front desk agent, relief night auditor, concierge agent and since May 2018, concierge supervisor.
The dedicated father of five expressed that he never had his eyes set on being promoted to supervisor. "I come to work with a particular mindset – to be the best in whatever capacity I am in and just make my work speak for itself. Once my guests are happy, then I am good. For the team to see my capabilities and acknowledge me as one who can help to lead a department, I am honoured and thankful."
As the supervisor for the concierge department, Mighty is always on the floor, ensuring that all standard operating procedures are followed and that his 17 team members complete their tasks effectively, make the guests happy and are motivated to come to work.
According to Concierge Manager Krystal Nembhard-Reid, "Hilroy has always assumed the role of a leader before even being a supervisor. He leads the team very well, is not afraid to take on challenges, rectify them and provide the necessary feedback. He gels very well with the team, often playing the role of not only their supervisor but their coach and counsellor." She added that they hold him in high regard and she values him as an asset to the department. "We respect him because he uses himself as an example to teach others. I am very comfortable having him as my second in command, he has the gift of talking to guests and soothing them, no matter the situation, he is able to fix it and they always leave smiling. He is passionate and will go the absolute extra mile to do whatever is legal and ethical to make them happy."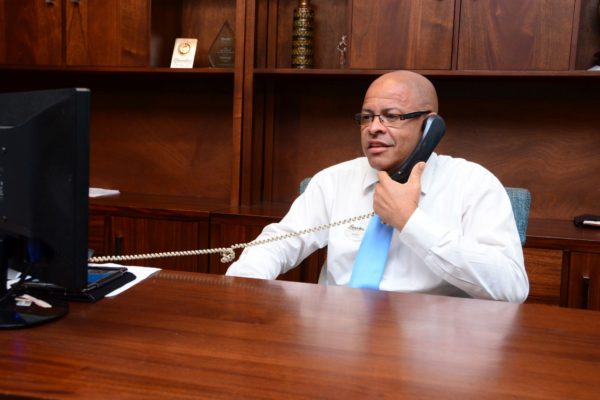 Mighty revealed that at times he is surprised at how much of an impact he has made on a guest. He said, "Sometimes when I read the reviews from a family, I stop and wonder if they are really talking about me," he expressed.
They are indeed talking about Hilroy and many more glowing reviews will come as Mighty continues to impress his guests and lead a great charge for his team to follow.