The Sandals Foundation is broadening its commitment to local communities, this time extending a hand to craftsmen and women to support more local production and build sustainable businesses.
Working in partnership with Sandals Resorts International (SRI) resort shops, the Sandals Foundation has rolled out its Caribbean Artisans Collection initiative in Jamaica aimed at building the capacity of local artisans through funding for equipment, training and improved infrastructure. This support will enable artisans to improve production and employ more individuals, which in turn is beneficial to the economic growth of their communities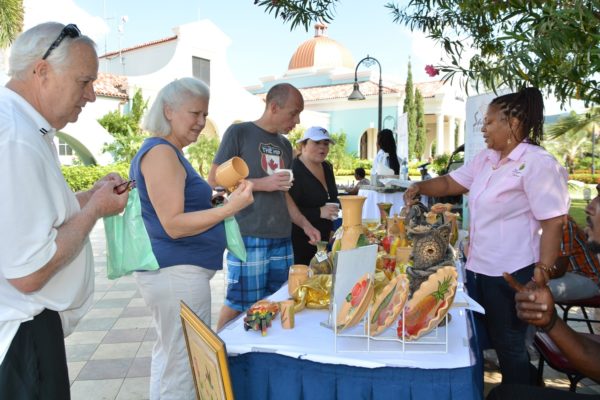 Within emerging economies, craft is a US$32 billion industry and research has shown that for every one artisan employed, 20 more people are impacted, including family members and others in the supply chain.
Executive Director of the Sandals Foundation, Heidi Clarke, said the initiative is rooted in the foundation's mission of creating opportunities for talented individuals across the Caribbean.
"In Jamaica and throughout the Caribbean region there is beauty all around and we have the talent here to harness that and make it into beautiful finished products. Through this programme, we are prepared to provide our craftsmen and women with the support needed to bolster their businesses," Clarke said.
The Caribbean Artisans Collection gives artisans the avenue to sell their products to tourists through SRI resort shops, a percentage of each sale being placed back into funding the programme.
"Not only are we securing a market for the products, artisans in the programme will also have access to these funds to purchase machinery and invest in the expansion of their businesses and product output. We want to invest in local artisans to improve product designs, increase production and raise quality standards, a win-win for both retail and the artisans," Clarke said.
Among the criteria for consideration into the programme, artisans must demonstrate that at least 70% of raw material and labor used in the production of their pieces are from Jamaica or their respective island.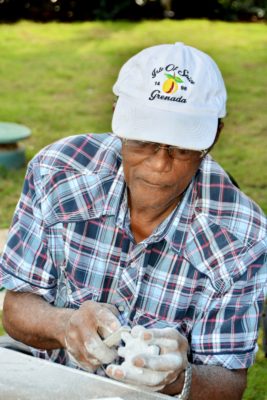 Trench Town resident Egbert Hamilton is a member of the programme and says the assistance from the Sandals Foundation has been invaluable to his business.
"I got a [grant] from the Sandals Foundation some time ago that allowed me to purchase tools and employ two young men from my community and teach them the trade," said Egbert, who manipulates the alabaster stone into unique trinkets and keepsakes.
Growing up in Kingston, at only 19 years old Egbert taught himself the art of working with the locally-sourced mineral from the mines of Bull Bay. That was in 1969. Today Egbert is a master artisan of Alabaster and his workshop in Trench Town provides a haven for youths of the community, some of whom he has taught the labor-intensive skill of working with the salt-based stone.
"Before I started selling to Sandals, I didn't have a consistent buyer and I wasn't able to produce as good a quality," Hamilton said. "Now that I have the tools to work with, I have been able to increase my production and produce a more diverse range of products."
Michael Williams, Head of Business for the retail division of Sandals Resorts International said the programme is a great platform to help bring locally crafted goods to market in sometimes challenging conditions.
"It is also a significant source of income for a wide variety of local artisans and it works to help build a more sustainable economy. When we purchase products that are locally made in significant quantities, there is a trickle-down effect where more money is used, in turn, to make purchases from other local businesses, service providers, and farms. Simply said, the money stays in the islands."
Williams added that the programme also helps to offer a more authentic experience to resort guests.