Montego Bay, St. James; The typical dream of a child is often to become someone successful in their adult life. They dream of becoming a doctor or a lawyer, a pilot or a manager – or some kind of profession likely to promise a comfortable future. But as a young girl, the fourth of seven girls, Bernette Harvey's dream wasn't of usual prediction.  Little did she know, that her life would change by being at the right place at the right time.
Bernette grew up in Lucea, Hanover, nurtured from humble beginnings. She attended the Rusea's High School but, due to challenges and circumstances, she was not able to complete her secondary education. At the age of 19, when she had her first child, she felt a deeper sense of motivation to work hard and provide the life she had not been able to have for her child. She juggled jobs while going to school then secured a somewhat stable profession as a security worker under SecuriPro at Sandals' boutique property, Sandals Inn for four years.
"This is it, this is as far as I'm going to get. That's what I thought at the time," she reflected with a thoughtful shrug of her shoulder. But as she became more familiar with the workers at Sandals, they became vocal with their concern that she could do more and be more, which lit a flame to her complacency.
"Every time someone passed me at my security post, they would make this remark." she recalled with mirth. Their convictions were rooted to the fact that she was of small stature and had a soft voice. Her demure character did not fit the associated personality of a security worker and as she would look on at the team members, she realised that she truly wanted more. She wanted growth, opportunities and benefits that her work as a security officer just could not provide. Though she wanted to take the step from the beginning, she had been daunted by her lack of skills but the encouragement she received only grew stronger.
Dr. Phillip Brown, the Sandals Resorts' director for training and development, and front office manager, Doreen Allen at the Sandals Inn, were prominent forces in her life at that time. Everyone had a hand in pushing her to move forward.  She was encouraged to take the first decisive step into greater things. She participated in the Sandals six-week hospitality and tourism training programme for the front desk and after its completion, was offered a job as a front desk agent and immediately began working.
Sandals impacted her life through giving her a career, skills and training opportunities for her to develop, which opened doors of opportunity for her. Through the Sandals Corporate University (SCU) she completed a level 3 certificate course in Spa Therapy and is now a certified spa therapist at Sandals Royal Caribbean's Red Lane Spa since November 2016.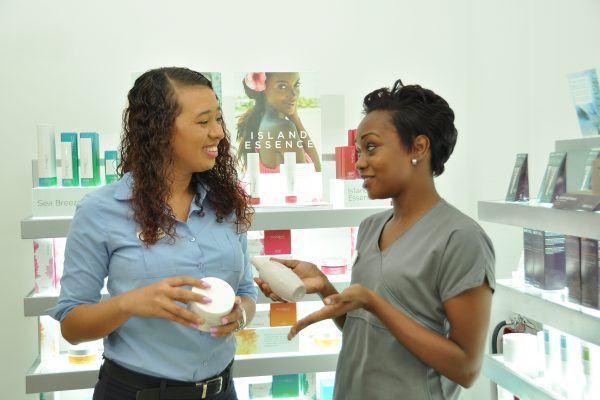 "My journey at Sandals has just began and I am excited about the many possibilities and opportunities that are heading my way. When I look at the person I was then and who I've become, I feel a deep sense of pride that I've come this far and that I had so much support from my colleagues. They (Sandals Carlyle team) treated me like family then and I'm glad to be a part of them now."
Since working at Sandals Inn, her progressive hard work over the years gained her the prestigious Diamond Talent of the Year award in 2015. It was a shocking win for her, something she didn't expect because she thought she was doing enough, that she was already a winner even without an award to her name. But with the award, she has placed more confidence in herself and her capabilities and now challenges herself to exceed her own expectations and limitations.
Outside of work, she also gives the best of herself and her time as a dedicated volunteer with the Sandals Foundation, the philanthropic arm of the luxury-included resort. Having been the product of kindness and an outstretched hand, she is inspired to give back to the community and make a difference in others' lives through the Foundation's various initiatives.
Bernette has risen above her circumstances and now dreams of becoming a manager one day. It is often said that where you come from doesn't define you, but your determination and choices to rise above your means. Bernette Harvey is a true example of one that will grab at the opportunity if given the chance.  With her daily passion for work and life she will continue to sparkle like the beautiful gem she is.