Imagine taking your child to school only to be greeted by the goats, cows, and horses owned by local residents in your child's schoolyard. It's not a pleasant thought, to say the least, yet for the past several years this has been the reality for the Roaring River Early Childhood Institute (ECI) in Westmoreland.
All of that changed however when a good Samaritan, in the form of Sandals South Coast Environment, Health and Safety Manager, Vilma Smith, stopped in at the school one day.
"I was actually visiting Roaring River out of concern for the nature reserve when I came upon this very vibrant little school," Smith said. "Of course I had no trouble walking into the school unannounced as they didn't have a proper gate or any fencing, which I found strange, especially for a school located between two driving roads."
Smith said this is when she met the school's principal, Lucretia Burt, who was eager to explain the school's dilemma.
"Roaring River ECI has been around from before 1988 and it has been serving the educational needs of children from the community, however, there has always been a problem with animals coming into the schoolyard," Burt said.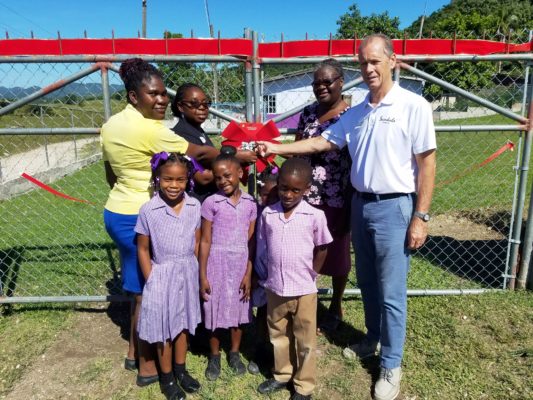 She noted that this has created a lot of problems for the children as the animals would often leave behind feces and ticks on the school premises.
"Our enrollment has fallen considerably in the last few years because people don't believe their children will be safe at the school with no proper fencing."
Smith noted that the problem at Roaring River ECI weighed heavily on her heart, particularly as she also noticed signs of break-ins at the school and feared what could happen to the 32 students now enrolled at the school.
"When the 2018 Sandals Foundation Team Member Support Project was rolled out at my resort, I knew that was my opportunity," Smith said.
The Sandals Foundation Team Member Support Project offers team members within all Sandals and Beaches Resorts an opportunity to present projects in their communities that they would like to see carried out. The Sandals Foundation board then reviews all project proposals and awards up to US$2500 towards the completion of the winning project from each resort.
"When we learned that the fencing project at Roaring River had been selected as the project for the Whitehouse Region, we were simply overjoyed," Burt said.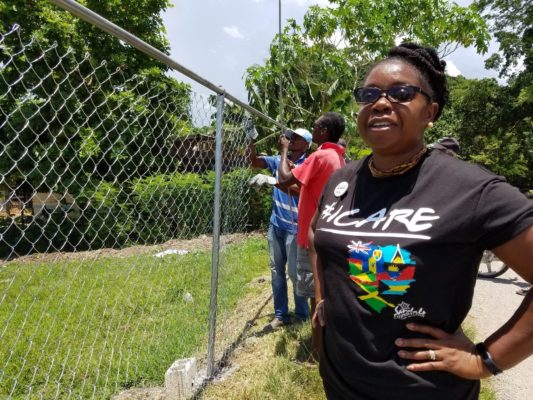 "We wanted to do this fencing for about three years now, we sent letters all around but nothing happened," said PTA President, Greg Clarke. "We had the manpower and the skills to do the work, we just didn't have enough money to purchase all the materials."
This is where the Sandals Foundation came in, purchasing materials to fence the school's parameter as well as build a gate. Once that was in place Clarke, along with school board chairman Leroy White and other willing men from the community got to work immediately.
Today things are looking up for Roaring River ECI. "We will be forever grateful to Ms. Smith for what she has made possible at Roaring River ECI, and to the Sandals Foundation, they truly care about the development of our children especially in the area of education. A sound education requires a safe and secure environment, which is what this fencing means for Roaring River," Burt said.
Smith said she's also grateful for the support of the Sandals Foundation and plans to encourage greater participation in the programme among her fellow team members as it gives them an opportunity to see their community concerns addressed with the funding they otherwise couldn't afford.
"As Team Members we support the programmes of the Sandals Foundation year round, so having the Sandals Foundation focus on some of our projects that we are also passionate about is certainly a wonderful and fulfilling feeling," she says.