On Tuesday, August 15, 2017 the Fi Wi Jamaica Project celebrated its two-year anniversary with an event dubbed "Draw Lang Bench" at the Knutsford Court Hotel. Launched in 2015, the Project aims to protect and promote the human rights of all Jamaicans, especially those who are considered vulnerable and disadvantaged.
With multiple partnerships between Fi Wi Jamaica and other NGOs, community-based organizations and businesses, this inclusivity has borne fruit, seeing over 9,000 individuals benefiting from one of the various activities undertaken over the past two years. Most notably, the Project has held training sessions which have empowered over 300 persons with an entrepreneurial skill-set; held sensitization sessions for greater awareness of trafficking in persons and domestic violence and intimate partner violence; and hosted a Master-in-Residence (MIR) programme which uses popular culture to facilitate change and transformation.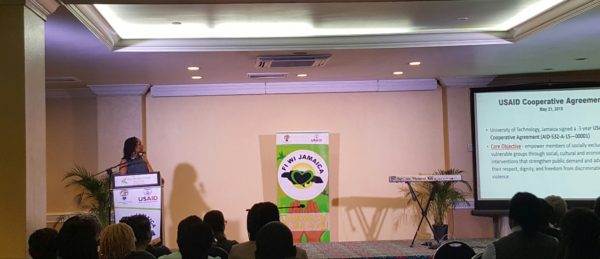 Project Director Prof. Rosalea Hamilton, spoke of the many lives that have been positively impacted by the various events and several testimonials were given by participants and volunteers. Participant Trudy-Ann Morrison, who participated in the women's empowerment event, described the project as life-changing, highlighting the significant change in her attitude towards violence within her community.
For the remainder of the Project, Prof. Hamilton indicated that several other activities will be launched including the establishment of safe spaces for men and women who have been abused. According to Hamilton, the aim is to "fund and facilitate the establishment of at least two shelters across Jamaica." Further, there will be the launch of an organization titled Girls using Ubuntu, Respect and Love for Entrepreneurial Success (GURLES), Hamilton noted that it is "important to build sisterhood and networking required to uplift each other…" while at the same time ensuring that there is sustainability of the activities that started under the Project.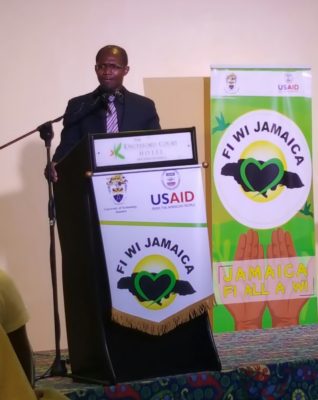 With the unabated violence in St. James, the Project will also focus on that area and has already started an initiative known as the St. James Gender Based Violence (GBV) Music Initiative. The initiative is a three-pronged intervention that focuses on empowerment, music and gender-based violence. Under this initiative, Fi Wi Jamaica will partner with the Montego Bay Community College for an enrichment programme -"Second-Chance" and the University of Technology, Jamaica, Western Campus for entrepreneurship training to empower residents in the most volatile communities of St James. These are but two initiatives that will be undertaken under the empowerment programme. Meanwhile, under the music initiative, there will be collaboration between Fi Wi Jamaica Project and the Flagstaff Maroons dubbed 'Drums fi Life'. This initiative will see the Maroons sharing their culture and historical experience and drum-making skills with at-risk youths. Anchored at Sam Sharpe Teachers' College, they will be trained in the art of drum-making, taught drumming skills and introduced to the culture and history of our people, all of which should aid in the resocialization process. Further, the hope is that through these sessions, at-risk youth will find purpose and entrepreneurial opportunities where they can utilize their new skills, thereby eliminating their dependence on crime.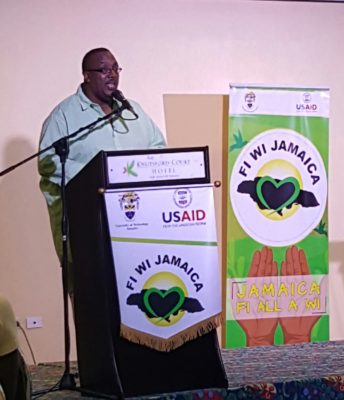 The Master-in-Residence Programme will also continue, with persons from St. James targeted to participate. Further, an island-wide song writing competition will be launched with over $500,000 in cash and prizes. Project Musical Director, Michael 'Mikie' Bennett will assist individuals participating in the competition with writing. The competition will have weekly winners with the overall winner being awarded a publishing contract.
The Fi Wi Jamaica Project is a three-year joint project between the United States Agency for International Development (USAID) and the University of Technology, Jamaica (U-Tech), which has as its core objective the empowerment of members of socially excluded and vulnerable groups through social, cultural and economic interventions that strengthen public demand and advocacy for their respect, dignity, and freedom from discrimination and violence. The Project will come to an end in 2018.