– Monday, October 16, 2017, will be celebrated as National Heroes Day, and for the second year, Fi Wi Jamaica Project has declared that day as #BIGUPJAMAICA Day.
The initiative, being spearheaded by the projects' Communications Consultant Fabian Thomas, aims to highlight the positive aspects of Jamaica, our people and our culture and persons are invited to make posts on all social media platforms using the hashtag #BIGUPJAMAICA.  Thomas also encourages those who participate to tweet to Fi Wi Jamaica using the Twitter handle @FiWiJamaica. Last year there was an overwhelmingly positive response and it is anticipated that even more persons will get involved this time around.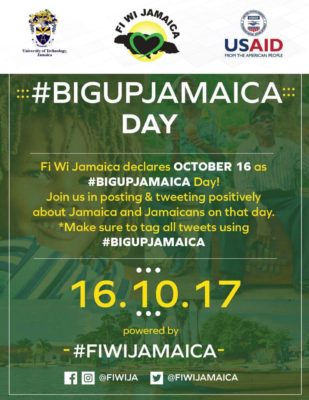 Fi Wi Jamaica Project is a USAID-funded project out of the University of Technology, Jamaica.  The three-year project is currently in its second year and has as its core objective the empowerment of members of socially excluded and vulnerable groups through social, cultural and economic interventions that strengthen public demand and advocacy for their respect, dignity, and freedom from discrimination and violence.   The Project will come to an end in 2018.