They were among the first guests to stay at a Sandals resort when the hotel chain first opened the doors of Sandals Inn in 1981. Since then, United States sweethearts 79-year-old Joyce Schwinn and her 96-year-old husband Arnie have visited Jamaica almost every year.
"In recent years we have missed a few trips because of Arnie's health but other than that we are in Jamaica every year, twice a year," said Joyce who recently vacationed at Sandals Royal Caribbean, Montego Bay in May.
So what has kept them coming back to Jamaica's second city for over three decades?
"It's the love we get from the people, the service and warmth of Jamaicans. We don't get that anywhere else. Everyone is so nice and they are genuine, they want to help you and that goes a far way," Joyce explained, adding that curiosity led them to Jamaica 37 years ago.
"We didn't want to go to Hawaii or Mexico. After researching the world book for places to go we chose Jamaica. We arrived in Montego Bay in March 1981. I had never been to a tropical destination before and didn't know what to expect," Joyce explained.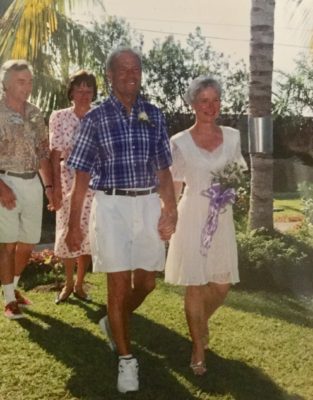 The couple remembers intricate details from the first visit, even Miss Birdie, the Jamaican lady with the fruit basket they met outside Sandals Carlyle (now Sandals Inn) whom Joyce took a picture with.
"Upon entering the hotel my mouth dropped open seeing how beautiful the landscaping was, I'd never seen palm trees, let alone the stunning color of the sea! " Joyce reminisced.
Long-lasting relationships
Over the years, the couple would form long-lasting friendships with many Sandals team members they would see while vacationing year after year. They speak with pride about the growth of many team members who have become top managers at the resorts in Montego Bay.
They mentioned their dear friend Carl Hendricks, once General Manager at Sandals Inn and later Sandals Royal Caribbean and Sonia Sterling, who started as a Cocktail Server 22 years ago and is now the Bar Manager at Sandals Royal Caribbean.
"She has been promoted several times and has worked hard to be in the position she is now in," Joyce said proudly.
"There is also Verna, she used to be a Pool Bartender. She always had our drinks waiting for us and knew how to make the best Hummingbird drink without liquor for Arnie. Unfortunately for us she has retired but has come back to the resort to join us at Returning Guests' Dinner," Joyce added.
There's even a Jamaican family with whom the couple have formed a long lasting friendship having met them on one of their first visits to island.
"We see them every time we come here and they have visited the states and stayed at our house. They are like family to us," Joyce said.
And according to Sandals Royal Caribbean's General Manager Gerald Christ the Schwinns are also like family to the team at his resort. He said they are a couple whose visit the team members look forward to every year.
"It's the loyalty of people like the Schwinns who keep the Sandals brand and Jamaica's tourism alive. Year after year I watch them come, connect and share with their favourite team members who have truly become friends over the years, it's certainly a joy to see how much they appreciate the Jamaican culture and people," Mr. Christ said.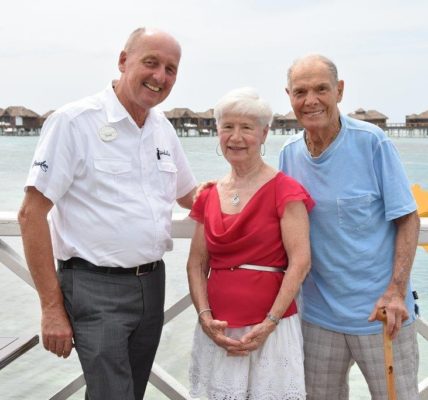 A lot has changed
Although the couple lauds the development of Montego Bay over the years, they still yearn for a time with less vehicular traffic and the ability to explore the island's beauty on foot and interact with more community members.
"Back then we used to walk into communities like Ironshore, go into the shops in town and see the people. Now everyone has cars and no one is walking on the streets anymore so we do miss that," Joyce stated.
But despite the changes in the second city, Joyce and Arnie are adamant that the Jamaican hospitality remains as true as ever. They are quite sure they will be visiting the island for has many years as their health will allow.
"One year we went to Mexico and though it was beautiful, it wasn't as nice as Jamaica. The people were friendly, but not Jamaican friendly, we decided to come back to Jamaica and not go anywhere else. All in all Arnie and I will always come back to our home away from home, Sandals Royal Caribbean," Joyce Schwinn said with a smile.