Mama Tenza mi need yuh help urgent! I have a pageant coming up so I've been working out. I'm also a college student and I have a full-time job, so I'm a bit stressed. I think its showing in my skin, more specifically my back; I have bumps and they leave spots when they disappear. There's none on my face nor on my chest; which is where I'm used to seeing acne. I've been eating well, more protein than usual, but still clean eating. I bathe more times a day seeing that I work out twice a day but, I'm so worried now, I need clean skin for the bikini section of the pageant. I can be covered for the rest of the segments but, wah mi aguh duh when mi back haffi show?
ADVICE
Putus wid di trophy body! Nuh worry yuhself, this tends to happen when you have an excess intake of protein and start building muscle; the area that stores the most stress and protein build-up, usually tries to expel sebum (fat) through pimples. It seems like you've been building a lot of the muscles in your back. Here are a few things you can do to regain glowing skin. You have to be consistent though, try them for a month religiously and you should see results: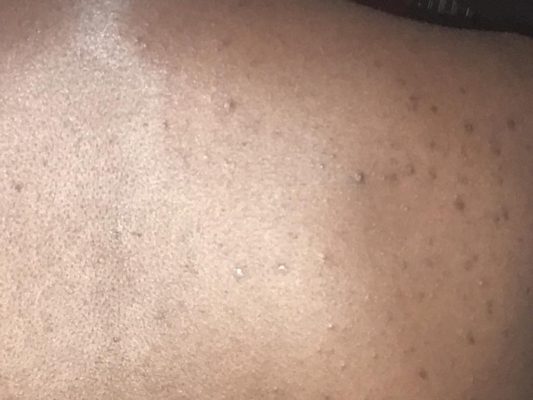 Step 1- All about cleansing the blood
A cup of Sarsaparilla tea, once a week, before bed should cleanse the toxins from your blood; this is needed as internal impurities need to first be dealt with as topical treatments may just prove futile.
Step 2- Cleansing and Exfoliating
Cleansing is not complete by just using a soap; exfoliating gets deep into the pores to rid dirt that is mixed with fat underneath the surface of the skin. Try using a Turmeric or Activated Charcoal soap mixed with salicylic acid to wash your back, then rinsing with warm water, this should help with the opening of the pores to allow for exfoliation and also help in evening out your skin tone. Additionally, a Himalayan Salt Scrub or Coffee Scrub should do wonders; they give the skin a great glow, removes dead skin and gets deep into the pores (especially when used with a cleansing brush). You can use the scrub twice a day after your bath. After exfoliating, using some Witch-hazel or Tea Tree oil should even out the tone of the skin.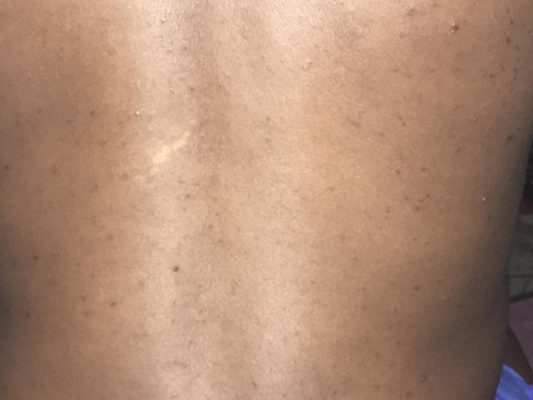 Step 3- Moisturize and Replenish
Using Castor Oil as a moisturizer gives amazing benefits; just a teaspoon with some cocoa-butter should give your back a clean yet smooth feeling. If used twice a day your back should glow like the trophy you're aspiring to win.
Vitamin E is great for the replenishing the skin, you can get these supplements at a health food store or eat more Avocados, Almonds, Spinach and Broccoli.
Remember to consume lots of water, stay away from too much sugars. For energy, you should drink 
more coconut water than energy drinks. Stay positive trophy body and Livewell!